Me in 10 seconds
I've been a musician, producer, circus performer, entrepreneur, TED speaker, and book publisher.
Monomaniac, introvert, slow thinker, and love finding a different point of view.
California native, I now live in New Zealand.
Me in 10 minutes?
See my "about" page.
What am I doing now?
See my "now" page.
Contact me?
See why you should, though read my frequently asked questions, first.
Books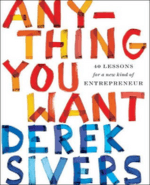 40 lessons for a new kind of entrepreneur: my tales of starting, building, and selling CD Baby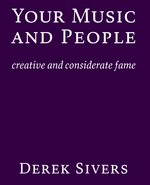 getting your work to the world by being creative, considerate, resourceful, and connected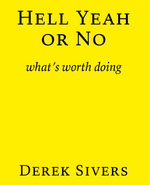 thoughts around what's worth doing, fixing faulty thinking, and getting things done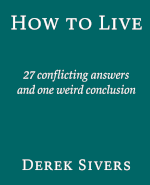 radically different approaches to life, in succinct directives
My private email list
For my quiet announcements, early access to new books, and more, get on my private email list, here:
Projects
detailed notes from the last 250+ books I've read
a collection of sites that have a "what I'm doing now" page
inspiring quotes about music, translated into Español, Français, Deutsch, Italiano, Português, Русский, العربية, 日本語, and 中文
Videos
3 short talks from the TED Conference.
7 short animations from my book "Anything You Want".
Entrepreneur lessons learned from starting, building, and selling CD Baby.
Talks from other conferences, all subjects.
Interviews
You can listen to over 80 hours of interviews, where I'm the guest.
Each one has an MP3 you can download, or a transcript if you prefer to read.
August 6

$250K books sold. $250K to save lives. https://sive.rs/250k

August 5

Changed sivers.org to sive.rs because it's shorter. (No other reason. ".org" felt like unnecessary noise.)

July 28

Fun interview with @shaneaparrish https://fs.blog/knowledge-project/derek-sivers/ I've been a fan (and subscriber) of his for years, so it was an honor to finally talk.

July 22

"HELL YEAH OR NO", my newest book, is available now at https://sive.rs/n

July 22

"YOUR MUSIC AND PEOPLE", my new book, is available now at https://sive.rs/m

July 4

Moved back to New Zealand for good, today.