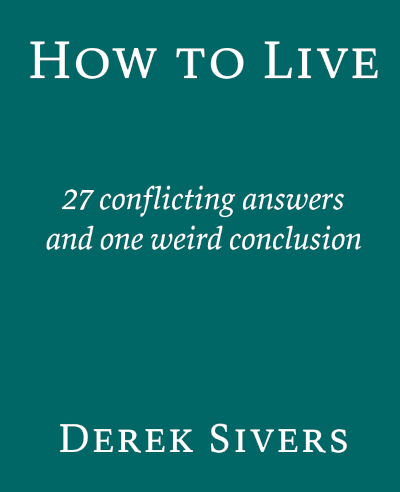 How to Live
27 conflicting answers and one weird conclusion
Book Summary:
This is an homage to the great book "Sum", which has forty conflicting (and dreamy) answers to the question "What happens when you die?"
Here are 27 conflicting (and useful) answers to the question of how to live.
It took me two years to write, and two years to edit.
I removed every unnecessary word.
It's meant to be read slowly.
Started April 23, 2017.
Finished May 24, 2021.
It's the best thing I've ever done.
A few months left to typeset, print, translate, and create the audiobook.
Get on my private email list if you want to know when it's ready.
Contents:
Be independent.
Commit.
Fill your senses.
Do nothing.
Think super-long-term.
Intertwine with the world.
Make memories.
Master something.
Let randomness rule.
Pursue pain.
Do whatever you want now.
Be a famous pioneer.
Chase the future.
Value only what has endured.
Learn.
Follow the great book.
Laugh at life.
Prepare for the worst.
Live for others.
Get rich.
Reinvent yourself regularly.
Love.
Create.
Don't die.
Make a million mistakes.
Make change.
Balance everything.
Conclusion