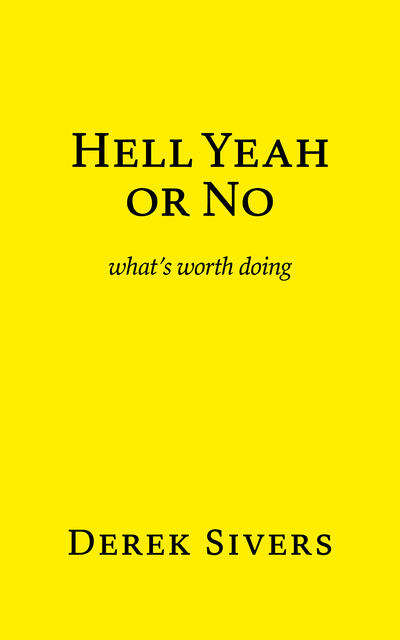 Hell Yeah or No
what's worth doing
Useful wisdom. Simple profound mental models to guide your decisions.
Overwhelmed? If you feel anything less than "hell yeah!" about something, say no. We say yes too often. By saying no to almost everything, you leave space and time in your life to throw yourself completely into the few things that matter most.
After Derek Sivers' "hell yeah or no" rule was adopted by podcasters, bloggers, and investors, he compiled related ideas into this useful, profound, and surprising book around the themes of what's worth doing, fixing faulty thinking, and making things happen. Examples:
Be proud to be a slow thinker.
Goals shape the present, not future.
Assume you're below average.
Life has no speed limit.
What's obvious to you is amazing to others.
Relax for the same result.
The first 15,000 early buyers of 'Hell Yeah or No' have posted hundreds of 5-star reviews at sive.rs/n — but it is now being released to a wider audience.
$15 : ebook, audiobook, and all digital formats forever

(epub, mobi, pdf, mp3, html, etc. No DRM.)

$19 : paper book includes all digital formats

(really just $4 for the paper, so only $4 for each additional copy)
Print length: 132 pages
Publication date: 2020-07-12
Kindle ISBN: 978-1-98-857508-7
Hardcover ISBN: 978-1-98-857506-3
Paperback ISBN: 978-1-98-857511-7
Audiobook ISBN: 978-1-98-857599-5
Listen to the audiobook:
Highlights:




Editorial Reviews
"Derek Sivers is one of my favorite humans, and I call him often for advice. Think of him as a philosopher-king programmer, master teacher, and merry prankster. I might need to do a second volume of my next book 100% dedicated to the knowledge bombs of Derek Sivers. So much good stuff. Hard to cut."
— Tim Ferriss, author, 4-Hour Workweek
"A deceivingly small book packed with endless wisdom. Each chapter is a life lesson. These stories help me keep the most useful mental models fully usable every day."
— Frank Corrigan, economist
"I can't say enough about this book. Pound for pound, it has the most useful and insightful information of anything I've read in the last few years. Derek Sivers is a true philosopher of our time."
— Chris Perry
"This book was one of the best surprises I've had in a while. You don't think you'll really learn something completely new after reading many other great thinkers. Hell Yeah or No is now one of those books I recommend for people I really care about."
— Romulo Gomes Nunes, entrepeneur
"I quote these vignettes in board meetings, meditation sessions, and to children. These short chapters are easily to relate to across all walks of life. The simplicity makes them so profound. I bought several of these books to share with friends. I didn't buy enough."
— Austin Moss, Sweetwater Sound
"When unsure about what to do, I open my copy of this book then close it having found the answer. We all possess an internal navigation system that knows the best way forward, but life has a way of burying that system in a heap of fear, habits, and uncertainty. Think of this book as a super-tool to help you clear the debris and rediscover what you already know. Highly recommend!"
— Manny Vallarino, musician
"The power in this little book is hard to overstate. Life is about making decisions. If you learn the framework for making decisions as outlined in this book, you can have a happy life and the career you desire."
— Ellen Twomey, founder of You Are TechY
"There are two books I would take with me on a desert island: Meditations by Marcus Aurelius (written 180AD) and Hell Yeah or No by Derek Sivers (written 2020AD). There have been billions of books between these two book-ends, but these two direct your mind on a better, less worrisome path."
— Lars Christensen, manager, marketer, designer, toolmaker
"Lovely, easy to apply patterns of wisdom that anyone can benefit from exposure to. This book is on my shortlist of books I re-read every quarter, and I've gifted it 9 times to friends, family and co-workers. The world would be a better place if everyone read this book, truly."
— Jason Schmitz
"A philosophy book with practical elements, written in a gentle and kind tone. I particularly enjoy Derek's concise writing style. There isn't one extraneous word in this book. The brevity means that I'm more likely to refer to this book for ideas or alternative perspectives, than a meatier tome."
— Úna Ní Fhlannagáin, award-winning Irish harpist
"This is one of the most useful books I have ever stumbled upon! Through stories and great questions, Derek provides a framework for thinking through life's real problems. I often find myself listening to the audiobook when I'm struggling with an problem and inevitably, Derek has a question that reframes it, sheds new light on it and often a solution follows."
— Brett Shikaze, lawyer
"Philosophy books can be incredibly cerebral and often inaccessible. This book somehow maintains the pithy wisdom and sweet juices of complex ideas, while keeping them brief, memorable, and shareable. The brevity of each micro-chapter makes it easy to digest, and the density of the ideas make them quite filling. I have updated aspects of my life because of some of the radical thoughts I found in this book. The entries are like perfectly polished little stones. There's something very satisfying about reading content that is smart, where the author has opted to eschew all fluff."
— Richie Trucke, musician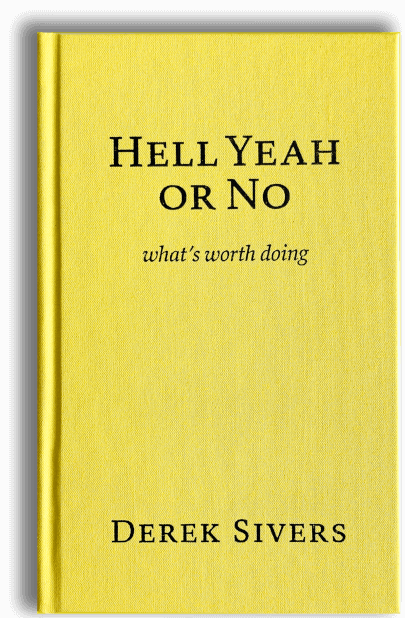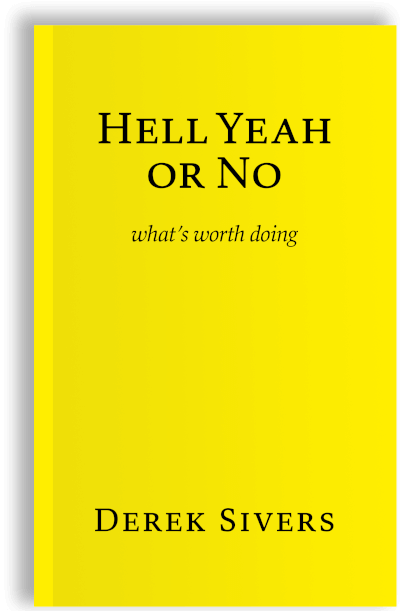 Contents:
$15 : ebook, audiobook, and all digital formats forever

(epub, mobi, pdf, mp3, html, etc. No DRM.)

$19 : paper book includes all digital formats

(really just $4 for the paper, so only $4 for each additional copy)
Reviews:
Original. Personal. Concise. Warm. Inviting. Conceptual. Practical. Beautiful. Clean. Provoking. For sharing. Accessible. Easy. 'How does Derek do this?' 'I want to try writing like this'. — Anson Friend

"Hell Yeah or No" is a compilation of insight and wisdom that Derek Sivers has learned and applied over the years as a businessman and human being. Sivers is a minimalist and it's evident in his writing; it's poetic. His words are chosen carefully in order to get his ideas across in the most efficient way possible, with the least amount of words possible. The audiobook is read by the author. Derek's voice is soothing to listen to and his reading is clear. He reads with conviction and passion. I can only give his books my highest recommendation. — Tamer Tewfik

I bought several of these books to share with friends. I didn't buy enough. I quote these vignettes in board meetings, meditation sessions, and to children. These short chapters are easily to relate to across all walks of life, but the simplicity is what makes them so profound. While all of these chapters are lifted from Derek's blog with the URL cited at the bottom of the page, there is something lovely about having a paper copy beside a plate of food and in front of a glass of wine. Buy a few copies because your friends are going to want one too! — Austin Moss

Hell Yeah or No is an inspiring easy read. I have now read it through twice. It contains numerous thought provoking ideas related to taking action and changing perspective. It has become one of my 4 "morning books" that I rotate through and read a chapter from each morning to ensure a successful start to the day. — Bob Hoffman

Many times I have been unsure about what to do or not do and many times I have opened my copy of this book and closed it having found the answer. We all possess an internal navigation system that knows the best way forward, but life has a way of burying that system in a heap of fear, habits, and uncertainty. Think of this book as a super-tool to help you clear the debris and rediscover what you already know. Highly recommend! — Manny Vallarino

The power in this little book is hard to overstate. Life is about making decisions. If you learn the framework for making decisions as outlined in this book, you can have amazing things like a happy life and the career you desire. I wish this was required reading in high school, but since it's not, pick one up so can use the right framework from which to make decisions. It just might change everything in your life! — Ellen Twomey

There are two books I would take with me on a desert island: Meditations by Marcus Aurelius (written 180AD) and Hell Yeah or No by Derek Sivers (written 2020AD). There have been billions of books between these two book-ends— but these 2 direct your mind on a better, less worrisome path.
You can see my review of Hell Yeah or No here: https://www.larschristensen.org/post/hell-yeah-or-no-what-s-worth-doing-by-derek-sivers-~-13-minutes — Lars Christensen

"Hell Yeah or No" is the perfect book to read and reflect on life. While it is a short book, I recommend reading it slowly, digesting each section one at a time. My girlfriend and I have been reading this a section at a time and Derek's pithy writing never fails to spark deep thought and conversation. Looking forward to his next one! — Connor

This book is on my shortlist of books I re-read every quarter, and I've gifted it 9 times to friends, family and co-workers. Lovely, easy to apply patterns of wisdom that anyone can benefit from exposure to. The world would be a better place if everyone read this book, truly. — Jason Schmitz

I found this book to be full of valuable insights as to the human experience, and advice on what to do with one's time on the planet - from the micro, to the macro! I'd call it a philosophy book .. . but with some practical elements, and written in a gentle and kind tone. I particularly enjoy Derek's concise writing style - there isn't one extraneous word in this book. The brevity means that I'm more likely to refer to this book for ideas or alternative perspectives, than a meatier tome. — Úna Ní Fhlannagáin

This book is bursting with wisdom. Read one chapter, then let it churn in your head for a week.

Hard to choose one passage to mention, so at random, in "Relax for the Same Result", Derek discusses how, one day, he backed off his usual "full-throttle" bike ride and took it easy (but not super easy, just like 50%).

The whole mood of the ride lightened up- he noticed dolphins and birds. At the end of the ride, he looked at his watch and realized that this relaxing ride was only a couple of minutes slower than the "push to the limit" ride, yet he gained so many unexpected benefits.

I've tested this in life. Back off the work and professional throttle just a bit, and watch deeper relationships with family, friends, and the world blossom. Honestly, I'm not sure why, but in doing so, I haven't even lost the couple of minutes that Derek did on his bike ride. Buy the book. — Bill Christie

This is one of the most useful books I have ever stumbled upon! Through stories and great questions, Derek provides a framework for thinking through life's real problems. I often find myself listening to the audiobook when I'm struggling with an problem and inevitably, Derek has a question that reframes it, sheds new light on it and often a solution follows. Thanks Derek! — Brett Shikaze

I can't say enough about this book. Pound for pound, it has the most useful and insightful information of anything I've read in the last few years. Derek Sivers is a true philosopher of our time. — Chris Perry

What I love about "Hell Yeah Or No" is the digestibility of the content. Each chapter is a tiny nugget of info that makes the book easy to pick up at any time, read a few entries, then leave it on the coffee table to come back to later. I've really enjoyed this relationship which is almost like a thoughtful roadside billboard while on a roadtrip--a quick interaction, but the sentiment sticks with you on your journey. Derek's words can be so impactful that I often write down a few snippets of them on sticky notes, and stick them around the house to remind myself of what I'd read that day that resinated with me.

The book's physical size is also a complete joy to hold, or at least that is what I've come to discover the more time I spend with it. It feels like a hard cover collection of field notes.

It is worth your time to read and contimplate what you are saying "yes" to, and really think on the "why". By making mindful agreements on your trajectory, you may come to find out that you need to alter your course more frequently than previously realized. — Carl Furrow

A deceivingly small book packed with endless wisdom. Each chapter is a life lesson. It is the power of the Hell Yeah or No blog post multiplied by 66. These stories help me keep the most useful mental models fully usable every day. — Frank Corrigan

This book was one of the best surprises I've had in a while. You don't think you'll really learn something completely new after reading many other great thinkers (from Seneca to Naval), but Derek certainly conquered his place in my shelf after I read this book.
I loved the conciseness of it and how tangible he wrote his advices while still keeping it open enough for a lot of people like myself to identify with.
Hell Yeah or No is now one of those books I recommend for people I really care about. Thanks Derek! — Romulo Gomes Nunes

Philosophy books can be incredibly cerebral and often inaccessible. This book somehow maintains the pithy wisdom and sweet juices of complex ideas, while keeping them brief, memorable, and shareable. The brevity of each micro-chapter makes it easy to digest, and the density of the ideas make them quite filling. I have updated aspects of my life because of some of the radical thoughts I found in this book. I think Derek is not alone in his ability to draft these great concepts, but his ability to cast them in a new light, edit them and condense them is quite remarkable. The entries are like perfectly polished little stones. There's something very satisfying about reading content that is smart, where the author has opted to eschew all fluff. — Richie Trucke

Ever since gobbling up this deceptively simple book, it has migrated back and forth between my desk and bed to be revisited … and revisited … and revisited. Each one-to-two-page-long "chapter" introduces an IDEA. Derek has distilled years of journal writing and pondering to focus on three key topics: what's worth doing, fixing faulty thinking, and making things happen.

Small paradigm shifts and questions like these can be life-changing. Are you local or global? Why do we do what we do? Are you present or future focused? How slow can be better than fast. How assuming we are below average can take us farther. Even the title, "Hell Yeah, Or No" has impacted my own decision making in large and small ways. SO liberating!

Ever since Derek Sivers headed CD Baby years ago, he has stood out as an independent thinker with innovative ideas that he is generous enough to share with us. I am grateful for this book and will buy his others. Just brilliant. Thank you thank you thank you! — Ashley Maher

"Hell Yeah or No" is short and easy to read. If you think books need to be full of text and long, then this book is not for you.

(Generally, a book is allowed to be a book, even if it doesn't have a lot of text.)

The best advice is often short. If you're not paying attention, you might blink and miss it. When advice is excellent, but short, sometimes you need to have it in a form you can hold in your hand to remind you of its importance.

I think the essential idea behind Hell Yeah or No is, first, that your life is limited. Your resources are limited. To use your time and your resources for anything less than what could bring you the most joy is a disservice to you and the people around you.

The good news is that, in general, we have more options than ever before. The bad news is that we have to make choices under imperfect information. Derek says that the level of enthusiasm for something at the point of decision is the best indicator you have for whether something is worth doing.

Also, you'll eventually hit the point in your project where your motivation wanes. To finish what you start, you need as much reserve as you can get.

This is a humane little book. You will feel better after reading it. I recommend it. — Stephen Bosch

Hell Yeah or No is a small book filled with wisdom. I read it the first time when it first came out, and it helped me in making some important choices in this last year.

Derek's philosophy made me question if I really wanted to work a 9-5 at 23 years old. I choose to do a PhD for the next 3 years.

It also helped me decide if it was better to go live alone or to stay with my parents for another couple of years and put together a sufficient amount of money to then have more freedom of choice when it will come to choosing where I want to go.

But it also helps me on a daily basis with small choices that when added up make me a better person.

I cannot recommend this book and this author enough, it can give you new lenses through which you look at life. — Paolo Mandica

I love this compendium of quick, memorable stories/allegories relating to living with purpose, focus, authenticity, and efficiency. — Ivan Rosenberg

I've listened to the audio version with my wife and it was a treat. We had to stop the audio after each chapter and chat about it to digest it properly.

You won't find a book with a higher density of ideas. There are no superfluous stories, no padding, no bullshit which is very refreshing.

I tried Blinkist but this book does a better job at summarizing important life hacks and wisdom.

Is the book worth reading? Hell yeah! — Vítek Baisa

Hell Yeah or No.

I need to get this tattooed on the back of my hand. Life is precious and the ability to say yes and no, to set boundaries, helps us do what is worth doing.

Derek writes as though we are sitting across from each other, as friends. He shares stories on how to live. To live as us, not as him.

On page 126, Derek writes. "Sometimes people ask me if there's one motto or rule of thumb I use most often. This is it: 'Whatever scares you, go do it.'"

I am Derek. — Pamela Fernuik

Sivers' book will leave you with so many poignant thoughts and ideas that you will be forced to reread it several times. There is so much to be gleaned and interpreted that Hell Yeah or No can only be seen as an experience beyond words. — Robert Meislin

I can't say enough positive words about this book. I still have a by my bedside and refer back to the various chapters from time to time when I need to have a focus in an "activity-crammed" life. I truly recommend this book to individuals trying to understand what to prioritise and what is important. — Dan Plews

I keep this book close by at all times. When I'm making tough decisions I pick it up and reread some of the great advice to help me move forward in a way that is true to me. — Sean Flaherty

I really loved this book and I recommend it often to people. Easy to read but powerful. — Carl Ryden

I keep Derek's succinct reminder, "Ideas are just a multiplier of execution," at the top of my daily task list to guide my work. There's no shortage of brilliant ideas here leaving the execution to the reader. Thanks for all you share, Derek. — Eric Reinholdt

Derek Sivers is always a delight to read, and this book is full of easily digestible super-applicable wisdom for just plain having a much better life! — Orville Erickson

Hell Yeah or No is a primer for how to live a good life. Derek provides a simple way to think about significant decisions in life, all in a straightforward and down-to-earth manner. — Sarnaa Archie

All I have to say about this book is "Hell Yeah". mandatory reading for my kids, employees, etc. — Mike Bush

I reach for Hell Yeah Or No when I have to make a decision, when I'm thinking about the decisions I've made, or when I'm just not feeling like myself. It's worth reading and rereading a 100 times. — Rajit Khanna

The audio book is great. Listening to it feels like a very good and wise friend giving you life advice. — Theresa Fuchs

In Hell Yeah or No, Derek does a masterful job of sharing his valuable life lessons in a concise and easy to read format. A "must read" for entrepreneurs and anyone seeking to continuously improve their quality of life. — Geoff Knapp

Love this book and have it in hardcover on my coffee table. Nice reminder of what's really important. — Bennett Garner

Derek distills some of life's seemingly most complex questions, leading you to how clear and easy your own answers to these questions can be.

The margins of my copy are full of notes and my favorite, most resonant lines are highlighted... Some pages are nearly as yellow as the cover.

This is a read-annually kind of book. Thank you. — Toni Henderson Banks

I wasn't sure at first that this was the book for me. I mean, what did it have to do with the music industry? And why the hell did Derek leave music behind? Is he nuts? It's hard to pinpoint one thing that I learnt from this book, because I learnt so many things. Being a complex chap, I often grapple with questions, for which I seldom find answers. Derek's book puts things into perspective in a way that makes me think. And so all I can say is this: I doubt very much that you can read this book without it having an impact. It will give you clarity and insight from a totally different angle than what you're used to. But only you will know what that clarity and insight will be... — Rob Rodell

Hell Yeah or No has an amazing incite into life. I have read it 3 times now. The best books ever. — Tony Isgrove

Derek's thinking, as displayed in his books, is very clear and concise. The book is broken up into short essays on a variety of topics. It provides food for thought in developing one's own philosophy for living. I have enjoyed it very much and highly recommend it for others who seek to live an examined life. — Rob de Vooght

Bringing together entries from Sivers' website, I found "Hell Yeah or No" to be very philosophical, with clearly expressed, easily applicable and tangible advice. It has helped me to navigate decisions and continues to do so. One of the few books were the active digestion takes a lot longer than the reading of the material. It was not uncommon for me to stop after one chapter and reflect before going on. A highly recommended read. — Julius Hillebrand

Even though the title says it all, the way Derek crystallizes wisdom into easy-to-read anf digest form makes it worthwhile to go through every carefully chosen word, not just once, but many times. I'm on my third read! Thanks Derek! — Danny Holtschke

I bought 6 copies of the book to give to my closest friends. It's had a huge impact on my life and that of my friends. — Raffi Hotter

This is simply fantastic. Was one book that I shared the most in 2021. Keep doing what you do! — Bindesh Patel

Loved it. Felt compelled to take notes, until I realized my notes were as long as the book. — Michael Kavanagh

Great little book to provoke thought. Derek has an interesting perspective on so many things and has done a nice job to compile them here. All great things first start as a great thought. We need to take more time to just think. This book helps to do just that. Read through it, agree or disagree, but think deeper. Good stuff Derek ! — Dan Neubauer

Derek breaks down the topic very clearly and I kind of felt like we were just having a discussion. My friends 12 year old daughter even picked it up and read the entire book and had amazing insights from reading it. I highly recommend everyone reads this book you'll be happy you did! — Diane OConnell

Each short chapter has spurred hours of reflection and introspection. A truly rich read, in the best sense of the word. — Alejandro Luján

I first heard about Derek Sivers on the Tim Ferriss Podcast and I remember thinking who is this guy? With that smooth, calm and happy voice. Even at 1.5-2x speed. In all seriousness, this book is life changing. It gives meaning and thought to things that truly matter versus the clutter of the metaverse. It's incredibly refreshing and the physical copy of the book itself is wonderful. It's a must read and as for myself, will be one of the few books I continue to read once a year. Thank you for all that you do Derek. — Benjamin Sol Ignacio

If 'Hell Yeah or No' were a meal it would be the simplest of fares, but one comprised of only organic, highly nutritious, ingredients.

No superfluous flourishes.
No elaborate contortions to make something more than it is.

Some writings are full of words for words sake.
Derek Sivers' "Hell Yeah Or No' is distilled down to the very essense.

But like good nutrition, the real value is in the long lasting depth and ripple effect of that.

To paraphrase Antione De-Saint Expurey, "Perfection is attained, not when there is no longer anything to add, but when there is no longer anything to take away"

Derek has perfected that ideal with this enlightening and enjoyable book, sharing real, core, valuable concepts and ideas, wrapped in the simplest of language. — James Douloudis

I recommend this book to all of my mentees, mentors, collaborators, family and friends.

If you struggle with decision making, this book will show you the way. If you need some perspective, this book will prescribe it to you in a forthright yet reasonable dose. If you want to understand what you really want, prepare to find out.

Hell Yeah or No is the ultimate guide to what's worth doing. In business and in life.

Thank you for writing it, Derek! — Tom Hirst

Such a fun book. Really quick read, but it lives in your head long after finishing it. — Sam Cartford

I love the style of this book. Quick, punchy, well-organized thoughts that make you really stop and think about how you're living and what you're prioritizing. This is a great book to dog-ear your favorite pages and reference often when you need a pick-me-up. — Shayne Rempel

I love this off-the-cuff series of insights from a clearly pioneering thinker. It feels like sitting down for tea with Derek, listening to his ideas, and being invited to cultivate my own opinions about his philosophies. Highly recommend. — Lea Morris

As a young person fresh out of college I found myself saying yes to anything and everything. Derek's stories and perspectives helped me reign myself in and prioritize what was actually important to me. Thanks Derek! — Dillon

This book is as valuable as expected and then some more... "Valuable as expected" to the point that, and once I got the paperback version, I turned it into a kind of capsule in time for my decision-making throughout life... How? By reading it and date marking in pencil the parts that help me out or strike a sensitive cord at that specific date and moment in time. So that I can later on, and throughout the years, go back to revise decisions made and lessons learned and to re-read it again and again. And "then some more" because at the midst of all the golden nuggets this book already provides there is one "story" that is the definition and base of one of the best reasons and ways to walk this earth and life: 232 Sand dollars. This book is a worthy definitive "Hell Yeah!" to get and read. Again and again. — Luisa Baltazar

I love Derek's minimalistic and authentic writing style and regularly grab the book to re-read a chapter here and there. Due to the simplicity and the universal wisdom, I also love giving the small books as presents. — Tobias Weghorn

This was superb! I marked almost every page. A beautiful book. This is a must-read. — Kieran Jolly

A series of original insights about thinking and relating to yourself & others. The ideas have a subtle power because of their concise and actionable format. I wish I had a copy for everyone important to me. Thanks Derek. — Matt Gow

I don't just love this book, I cherish it.

Have you ever heard a great lecture where the speaker kicked off with a thought-provoking question?

It's a real gift when someone seizes your attention and makes you feel alive and engaged in a struggle with a challenging idea or problem.

Hell Yeah or No is filled with such gifts. Each is easily digestible in a few minutes - but keeps you full for hours.

Derek's book lives on my bedside table and I reach for it periodically. I revisit the chapters randomly. My life is better for it. — Dean Tsaltas

Love this book and have recommended it many times to people trying to make big career and life decisions.

Now use as a reference book when I'm thinking through my own big career and life decisions. — Remy Hall

This book is an excellent way to wake up your thinking, shake up your patterning, and bring a breath of fresh air to stale beliefs. Totally recommended reading! — Shamus Birkel

Really great book. One of only very few books that I've gifted to friends. Insightful, succinct, easy to read, and just may change how you look at and act in life... in multiple ways. Highly recommended! — Ariel Travis

Life changing. I loved it, bought it for gifts and also used to share with my students core ideas about life, values, priorities and how we can control what we sometimes wamt to believe we can´t control. — Rodrigo Sigal

The idea of "Hell Yeah or No" has become Internet-meme worthy, and is over 10 years old now. From listening to Derek on various podcasts, it seems it's been a recurring piece of work that he is known for widely. This book, subtitled "thoughts around what's worth doing, fixing faulty thinking, and making things happen." is a combination of decision-making strategies, perspective-shifting exercises, and thought-provoking stories. Derek is a fan of directives, of cutting to the chase of whatever it is that worth sharing, not messing with wrapping ideas in needless details, and this book could be read as such. The titles alone are takeaways, let alone the chapters themselves (which are all short). Cracking. — Conor McCarthy

We hear a lot of expectations about how we should approach life. From our parents, our friends, our bosses, and our culture.

This is a great book to ask questions about those expectations and determine which of those expectations you should meet, which you should bend, and which you should buck. — Aaron Hockley

Derek's writings have the highest signal to noise ratio that I've come across. This book is no different. I love it, and it's got a permanent place on my small bookshelf, so that I can share it with my son as he grows up. — Latish Sehgal

Derek is superlatively good at reducing complex lessons down to a page, or a story, or an anecdote. I read this book early this year and loved it. Flipping through it again to draft this review, I realize I need to read it again! I say Yes to too many things and people. I don't do what I love every day. I aim for too many goals. Time for a refresher — Russell Smith

This book has helped me a lot to align my decisions with what I truly want. I would recommend it to anyone who is feeling a bit lost lately. — Alejandro Mendez Gonzalez

This book offers a ton of wisdom and advice. It's a terrific book to read if you're trying to figure out your role in the world or deciding on a career change. — Bryce Glenn

Reading this, and re-reading this, really helped me make a major life decision, and continues to do so! Full of gems. — Edward Dal Santo

I love how concise each chapter of this book is. I know Derek spends hours writing. And because he is a "monomaniac", lol, he probably spent hundreds of hours editing each chapter to deliver only the most essential.

After reading one chapter at a time each morning, my subconscious mind is subtly pushing me to make changes in my life. First, I stopped attempting to become a YouTuber, a programmer, an online entrepreneur, etc. I just want to focus on my day job and be good at it.

Thank you, Derek. — Kent Gomez

This book full of nuanced goodness goes well beyond the simple heuristic its title implies. A nicely eclectic collection of thought, all connected by the question of what mental models we employ when making mundane and life-changing decisions and assumptions. Definitely gets my HELL YEAH. — Johannes Wilke

The most wisdom per word of any book I've read. Incredible ROI. — Matt Pfleger

Hell Yeah to reading this book! Even if you've read some/most of these ideas in Derek's blog. Even if you think some/most of this is common sense. Get the book, grab a drink, sit down in a comfy place... and let the words sink in. Again and again. Reading it feels like a combination of talking with a dear friend who has your best interest at heart, listening to a wise mentor, and maybe even a dash of therapy. Time well spent... — Irina Baranov

Like a slap in the face and a loving hug, at the same time. Whenever you are too much in your own head, read a section of this book to reset yourself on the right path. — Daryl Feehely

This is a must-own. I read it the first time in one day. I then re-read each chapter one at a time. I've given a copy away to my best friend and have a plan to give this away for Christmas Presents to everyone I care about. So many excellent points, it's impossible to pick out one. Truly an important piece of writing! — Jim Floerchinger

It's impossible to read this book without clarifying your own approach to life — Mike Garman

Love the book, it has so many microlessons. I feel like I could have compiled this book myself in the next ten years, but it's amazing that I get a headstart on all of these things Derek has learned along his amazing journey. You can basically start anywhere and read as much as you want, and you'll always learn something new! — Anand Chowdhary

I took ownership of this philosophy when I read Anything You Want and have tried to put it into practice in as many areas of life as I could. A path to clarity. — Colin Michael

A book of uncommon wisdom.

Most topics introduce practical adjustments of perspective to help us lead a better life. In the words of Sivers "I write succinctly because I'm only introducing ideas." Indeed, each topic has a page or two.

Most chapters are practical (e.g. "When you are extremely unmotivated"). Some were controversial (e.g. "I assume I'm below average" is probably not as useful for minorities).

For me, the ones that resonated the most were the musings on character and values.

I highly recommend it! — Magdalena Pire Schmidt

Absolutely a gem of wisdom given in down-to-earth advice nuggets. My new audio book to listen to again and again. — Paul Janowitz

If you have trouble prioritizing and figuring out how to best spend your time, then this is the book for you. A fantastic book on helping you find your place and purpose in life and rid frustrations you may have from not being on the right path. — Donny Grace

This is a precious little book, each text brings so much insight that I had to read only one per day and take my time to take in all the wisdom and thought that's neatly packed into each short story. The yellow cloth binding is so nice too, this is the prettiest book I own, it's beautiful inside and out. — Roberta Modiano

I've recommended this book to so many people. Each essay has its own particular power. For instance, I loved the essay, "You don't have to be local" in the book. It was self-affirming. We've all heard the phrase, "Think global. Act local." But is that really true? What I loved about this essay and the rest of the book is that it gave me permission to live life the way I want to live it, and not based on cultural assumptions that are passed on because they sound good. Thank you Derek for writing another thought-provoking, insightful book that helped me see life from a new perspective. — Janelle Holden

I've learned so much from reading Derek's work - or rather, I've learned so much by actually APPLYING some of the things he suggests in Hell Yeah or No! It is such a practical, helpful, and actionable guide, and I highly recommend it.

As Derek has noted, so much of what we think of as learning is just rote memorization, whereas real learning means integration: real-world testing, processing, experimenting, and making the lesson our own.

Some of my favorite lessons of Derek's that I've road-tested include: Overcompensate to compensate (I use this with coaching clients all the time), relax for the same result, and of course, the ever-popular hell yeah or no. I can't quantify how much time, effort, and money these essays have saved me, but it's a lot. This book has a place of honor on my shelf. Thank you, Derek! — Caroline McGraw

This little gem gives three gifts:

a) Respect for my time!
The concise, clear writing in small packages is perfect for me.

b) Confirms my bias -- ha!
I'm so grateful to read things like "I like to be wrong because I learn something" from Sivers because no one believes me when I say the same thing. Just one example of the takeaways - many of which I've never seen put this exact right way to stick.

c) The perfect gift!
I bought a few of the sweet little hardcovers and love giving them away. The title is fun and shows I care about how the recipient spends her and his time.

Thank you! — Blair Richwood

'Hell Yeah or No' is my first encounter with Derek's works. I was in the middle of deciding my next career path and destination, and then I found Derek's blog and read 87% of his articles. Your time is limited on this earth. That's why you have to prioritise your tasks and laser focus on what's more important to you. This book is a great reading to motivate you to start and get rid of things that shouldn't appear in your life. — Camellia Yang

Derek's volume of succinct, pithy illustrations of simple, and essential, principles for living a life of meaning has a permanent place on my bookshelf, and I refer to his lessons often. — Sarah Thompson

No nonsense guide to ensure the choices we make are right for us and filtering what we say Yes to in our daily lives. This frees us up to do our best work and/or spend our time doing what we are most passionate about with the people in our lives that matter most. — Kevin Steele

In the beginning I didn't really like it. In fact, I was quite upset with my purchase. I'm really glad I decided to keep reading, because it turned out to be an amazing book, sharing some great lessons. A solid 9/10 from me — Alex Szabó

This book is the one I read and listened to the most over the past year. I love it because it challenges my auto-pilot way of doing things. It is a wake-up call for me every time I read it or listen to it. — Florin Sirghea

Absolutely loved it. Succint, full of wisdom. Needs time to digest, like a good book should. — Kőrösi Bálint

I was so impressed by this book, I have purchased 3 copies! 1 for myself, 1 for my business coach as a gift and 1 to lend out! — Jesse Bernal

What a powerful set of ideas, wisdom and tips to help us stay on track with our true values and calling!! Derek's pithy way of sharing just the right things with a powerful punch is refreshing. I listened to the audio version, and found it to be a comforting yet gently nudging friend after dropping my son off at school. I plan to have my 19 year old entrepreneurial son listen next. Thanks Derek! — Kim Marie

We often say our priorities are one thing, but then our actions say otherwise. Why? Because too often we say "yes" to mundane tasks and busywork, until, eventually, we're buried in stress and discontent and everyone else's "urgent" tasks.

Derek Sivers shows us there's a better way. To prioritize, we must say "no" to everything that gets in the way, so we can say "yes" to only that which is important. "Hell Yeah or No" is a guide into this insight. Throughout these pages, Sivers helps the reader understand "what's worth doing," not just intellectually, but viscerally. — Joshua Fields Millburn

I read this book at least once a month to make sure I'm headed in the right direction. — Austin Moninger

I read "Hell Yeah or No" over the course of about a month, enjoying one or two entries each morning, and was able to glean some insight or inspiration for the day, and sometimes to take pause and evaluate whether or not to pursue some of my larger goals.

It's filled with useful techniques for clarifying everything from small tasks to one's life's work, born out of Derek's personal experiences.

Should you get this book? Hell yeah. — Matt Braun

Filled with wisdom about life and being an artist.Leave it where you can pick it up....and read that page. — Chris Parker

Derek Sivers is a clear-thinking, straight-talking, and profoundly insightful human with the courage to live unabashedly and the generosity to share his earned wisdom and valuable life lessons with the rest of us. It's worth reading ALL he takes the time to write! — Darren Hardy

Fantastic and Fun Read. I try and review parts every few weeks to work the advice into my life. It's really helped make decisions easier and less stressful and could not recommend it enough! — Robert Melka

I bought a bunch of copies and gave them to all my friends...they all love it.

Derek is a genius! — Christopher Tighe

Every chapter is expressed with such simple elegance. Every chapter stops me in my tracks and challenges my thinking patterns. It's a cool book. — Elle

This book is a collection of magnificent drops of wisdom. At the end of every page, all you want to do is close it and make something happen. Really nice vibe and words. Thank you so much for this, Derek! — Rafael Camargo

For me it was a perfect motivational, and un-motivational book. I like Derek's books because you can tailor the message to your own life. Use the tools that he provides, or don't. As a reader, I don't want a formula to follow, but food for thought is nice. And expanding my imagination is worth the small price for the book! — Nathan Albee

More "lightbulb" moments and ideas than any book I've read in years. And like the best books, every time I come back to it I find more. — Chris

Philosophical and practical at the same time. Read one chapter a day and then reflect on it the next day. Then apply what you've read and you'll have made one more step towards becoming the best person you can possibly be. — Fabio Cerpelloni

Definitely the book for people who are swamped by requests for time. Reminds me of someone with a regular job who could say 'Yippee, work today'. If you can't say that, you are in the wrong job. This book is an inspiration to focus on what is important in your life. — Robert Allen

I take a copy of this on every trip I take, and normally gift it to someone I meet in my travels. It's a great little book and I love revisiting lessons from it regularly. — Kevin Thompson

One of the my favorite little books. In his classic "no fluff" writing style, Sivers packs so much life knowledge into each chapter. I've shared this book with many people who have different perspectives and all love it! — Chad Erickson

This book punches way above its weight class. Tremendous insights and thought-provoking passages in the shortest amount of text possible - making it clear, concise, and compelling. I enjoyed reading one passage every morning, a great way to start my day! — Ryan Ogle

This is such a gem of a book. Derek has a witty and smart way of peeking your perspective around a hidden corner that you didn't realise was there. I'd highly recommend it. — Caroline Golden

A generous, wise, and hilarious collection of true stories from Derek's life that will inspire you to get out of your own way and do the creative work you're forever putting off. He will remind you of truths you already know, but conveniently forget: that you have something to offer, that art is anything made with care, and that it's better to seek to contribute than to succeed. — Eliot Peter

This book is condensed wisdom written in the clearest way. — Philippe LAMBERT

A simple but profound book. I have it on my desk and it is a great tool when you want to get back to reality or as a constant source of inspiration. I highly recommend this book for everyone, from a teenager to a business man. It will transform you in many ways. Love it! — Juan Pablo

Absolutely loved it! For me, it's a great continuation of Anything You Want. As usual, it's full of Derek's wisdom and deep understanding of human psychology. Couldn't recommend it more. — Konstantin Komelin

I loved this book. Longer review here: https://www.catherinekunst.com/hell-yeah/ but let me sum up: Some of the "learnings" are so obvious that I am embarrassed that I needed someone else to write them down. To give me the freedom to say "hell yeah."

More importantly this is a book about "no" because if the inspiration isn't "hell yeah" the answer should be "no" across everything – the work you are doing, the people you make time for, the things you are thinking about, or spending time on. Just no. Simple and yet difficult. "Your actions show you what you actually want." And saying no, makes the space in your life for doing those things that you truly want. — Catherine Kunst

This is a wistful collection of little philosophical suggestions for doing what matters. I love how Derek presents his thoughts not as some know it all guru, but as a regular guy who found his way to success. Maybe some of the things he shares might be of value to you on your path. At the very least they will help you think from different perspectives. — John Hornsby

I've just finished reading Hell Yeah or No (might I add, that yellow hardcover is just gorgeous!), from only a few pages in but it has quickly become apparent that this isn't a book to read like a novel. The wisdom here is just too dense.

For me it's very much like reading Marcus Aurelius - just one subheading, one paragraph or one line per day and chewing it over, really taking it on.

This is outstanding work, thankyou for creating it! — Daniel Taylor

Bite size essays on life - easy to read, deceptively simple, lots to spark ideas about looking at the world through different eyes. I continue to enjoy picking this up and re-reading random sections. — Rachel Lilburn

This book has provided me with much-needed clarity and guidance, especially at times when I'm feeling a little lost. It neatly sits next to my copy of 'Meditations' by Marcus Aurelius, and 'Your Music and People' as my go-to books when I need an injection of wisdom. Buy this book. You won't be disappointed. — Oli Holland

Fascinating & unique ideas that make you think about your life and choices. Derek is an important voice in a noisy and distractible world. I buy every book he creates because I love his perspective and I KNOW I'm going to pick up useful new ideas. Also, he consistently gives us permission to be our weird selves. When I read his books, one of the main things I take away is 'It's ok to be different.' I love that! — Mike Kennedy

After I finished reading the amazing book "Anything you want", I was looking for more works from Derek. Luckily I stumbled upon this website and found a copy of "Hell Yeah or No". I drew a lot of inspiration from Derek's unique philosophy of life. It gives me a new way to look at the World. Thank you Derek for your wonderful writings. I hope you keep writing more and more! It's an absolute pleasure to read your work. — Vidit Gujrathi

There is so much noise in the world. And so many books with long chapters and yet little meaning. These books are not worth reading.

I loved Derek Sivers' 'Hell Yeah or No' for its short and sharp insights. Many planted a seed in my mind that I have revisited and developed the idea into something relevant and meaningful to what I am working on.

This book is worth reading and leads to things that are worth doing. Five stars. — Sophie Krantz

Useful book with actionable insights. The perspective that 'the public you in not you' really stuck with me. It has helped me run meetings effectively and take chances to make things fun, because it doesn't matter what people think about me - if jokes or interactions fall flat that's fine as that public persona isn't me, it's a tool. — Alister Parsons

Derek's gift is to spot valuable insights about life that are in plain sight, but we somehow all miss, and then distill those truths into engaging anecdotes and stories. Highly recommended. — Jason Gould

The succinct content makes this book a must-read.
You can turn to any page, at any time, and be reminded of priorities, and perspective, with that perennial positivity only Derek possesses.
It is, to steal from the book, Happy, Smart & Useful. (plus, it contains my favorite old Fable as well, which was a Bonus discovery).
What's worth doing, is owning a copy of this book yourself to refer back to it often.
This book is sincere, generous and authentic, as is its author. — Fiona Wilson

Marcus Aurelius is the godfather of Stoicism. He spoke mainly in platitudes. Derek Sivers is a stoic. But he couches his lessons in real life, personal events. Well worth the read. — Frank Petrie

An excellent book! I had to stop reading after every chapter and think about them for a while. Lots of new perspectives and ideas I never had thought about before. It's a book I've recommended to many of my friends :) — Emil Sundell

Sivers writes these very concise essays that beautifully get to the point in a page, page and a half. That takes skill, to distill lessons and storytelling to such short clips, yet still have valuable things to say, not just aphorisms or repeating the same old thing. — Tracy D

Great advice much like great art requires something of its audience to feel it's value. Hell yeah or no is not easy to do, nothing great ever is. This book will change your life, if you are willing to. — Ryan McMinn

A book to read many times in life.
"Hell Yeah or No" is one of my favorite books, I recommend it to all my friends.
It really helps on making the best decisions in a world full of possibilities.
I love how Derek goes straight to the point and express deep thoughts in a way that is simple to understand.
10/10 — Lucas Abduch

This is one of those books you hear people talking about. Some use the term "quake book". You can get through it quickly, but I think you're missing the point. Read a little of this book, then write about what you've read. Keep at this for a few weeks. Maybe a few months. Just keep at it. This book will help you understand how to be a better person, and then give you the courage to take the first step on that journey. — Scott Skjei

I enjoy re-reading chapters of this book to catch wisdom nuggets once in awhile and implement them in my daily life. I use it for better journaling questions. It reminds me that I'm not alone in finding out how to live. I underline sentences and transform them to affirmations. It inspires me to write personal essays. Thank you. — Lincy Willemsen

A no-blabber, to-the-point call to being true to yourself. Some of the stories Derek tells in this book might SEEM disjoint, but each serves a unique purpose and illustrates another angle of the main point of the book. Derek's succint, concentrated writing never ceased to amaze me. — Daniel Ciocîrlan

Derek writes so beautifully, this book is short and succinct. It has started off many conversations in our household and I've re-read and listened to it numerous times. — Sharyn Bessell-Browne

I always felt that Derek has a unbelievable treasure of wisdom all across his blog. But sometimes, you need someone to put all that into in another form that does not look so "threatening" in order to a reader to start consuming it. And for good stuff especially, curating improves the work's quality even more. That is what this book is. The "ABBA Gold" of Derek Sivers. — Marcus Hermann

'Hell Yeah Or No' is a short, sweet, simple guide on how to live, how to make decisions, and how to enjoy everything you do.

I've always admired Derek Sivers' quest to explore fresh ideas, try out new and different ways to do things, and pursue stuff that makes him happier. And love how he always shares what works with his friends and readers. Behind it is an undying desire to see us all live happier, fruitful, productive lives.

In 'Hell Yeah Or No', we get a glimpse into how his mind works. And can decide - if we choose to - how best to embrace this process to enhance our own time on the planet.

This is a book to know what's worth doing. And what isn't. — Dr. Mani Sivasubramanian

Pithy essays packed with wisdom. Worth reading multiple times. Refreshingly unconventional, authentic, and generous. — Ingrid Truemper

This book is like a good friend, you can have a civil and rational conversation with it. It never forces you to accept any ideas, but gently explains the intuition behind the concepts. I like to open the book randomly while taking a break from work and be surprised. — Jüri Andrejev

This book is full of tiny ideas that could make big change. Some have helped me to live a life that is just for me - not cut from anyone else's template. I also appreciate that Derek has made it easy and free to share any idea I think someone else will find helpful. — Riley Harris

This book helped me realize that it is most important to know why you do what you do. For me that's making a positive contribution to society, so I had to change jobs. And that's exactly what I did! — Michiel Eggermont

I bought a few copies because I knew this was going to be one I'd want to gift... and I was right!

This book is one I continually reference. Honestly, every page is filled with gold and solid lessons and metaphors to live by. I actually love the short story format too because it gives it "coffee table book" vibes.. I always find myself pulling it for reference. — Tate Hackert

I've listened to the audiobook, and then read the printed copy all over, one chapter at a time, taking notes, making observations, thinking of similar blog posts of my own that somewhat related to Derek's points made in this book. This was one of my favorites books read in 2020. There's so much goodness here packed in just enough words to get the main point across. This is the sign of a good book for me: few words that grab my attention, make me put the book down, and reflect on it. — Claudio Lassala

This is one of my favorite books I've ever read.

It's easy to digest, thought provoking, and inspires real change.

I've bought 10+ copies as gifts for people.

I can't recommend this book enough — Evan

Love this book. Bought >20. I hand it out to young adults. It's a life manual.

Crisp, readable prose. He doesn't waste your time or attention. Great stories and examples. Don't buy just one. (BTW, all of Derek's books are excellent.) — Brendan McAdams

Derek thinks in a way that breaks through the noise. He sees things in a different, interesting way. And he's kind enough to bring us on that journey with him. This book challenged and changed my thinking. — Gareth K Thomas

This small book is FULL of great insights, stories, and ideas that have the power to change your life. I love the format: quick-hitting stories that you can read over and over. Many may not impact you right now, but others will. Highly recommend! — Michael Morton

I was on a coaching masterMind call yesterday and the 5 attendees had the same problem : too many projects.

This book solves that.

On the macro AND micro level, Hell Yeah or No is filled with lessons to focus on what matters. I ve listened to it 3 times since I bought it and look forward to listen again.
Thx Derek!

Fav chapter: there is no speed limit. — Arnaud CZ

I read this amazing little book twice already. Many more rereads to come. Great selection of summarized perspectives and learnings to reflect on. — Thomas van Helden

What do you focus on? Where do you put your time and energy when building a creative career ... or for that matter, a life? Derek Sivers has the answer in "Hello Yeah Or No." As per his usual style, he packs every page with golden wisdom that will inspire and motivate you to take action. I love his writing, and this book is no exception. Well done, Derek. — Kent Sanders

The philosophy behind each page is presented so simply yet holds enormous value and insight into how to get in touch with that inner compass and to simplify the big decisions in life. Such an enjoyable read but also a book that has profoundly affected my life. — Susy Natal

Maybe one of the most important books out there. And as a writer myself, I'm always jealous of how clear and concise Derek manages to write, saying so much in so few words that are also easy and joyful to read. I guess it shows the power of a "hell yeah or no" approach in his editing as well. — Max Frenzel

I love this book! Just what I needed to read. Even the title just did it for me. I love the short article format - no need to get bogged down in detail, easy to read, grab a chapter any time - inspiring and wonderful. Thank you Derek. — Heather Smith

Tremendous book. Derek is a deep thinker and his books will drive you to be more introspective. — Tim Hardham

I think about this book a lot when making tough decisions. Is this a "hell ya" moment or a "no" moment? A highly recommended read. — Aaron Feigleman

My son (8yo) and I LOVE reading this book at bedtime. The wonderful anecdotes are quirky, subtle and transformative.

Thank you for packing life lessons in bite-sized, entertaining stories. — Amjith Ramanujam

What a lovely little book. The effort taken by Derek to distill each of the sections really shines through. I've read this a book a few times and each time I get something new. Definitely one I'll keep picking back up for years to come. — Jake Harris

Very inspiring and unique book. I wanted to read it slowly, but I couldn't put it down. "Hell Yeah Or No" is one of the few books that I can say helped to change the course of my life. — Drew Millar

Love this book. Hard to recall when I've ever come across a greater density of good ideas. Like little vitamins of wisdom. After finishing it the first time, I gave it a prominent position on the shelf right next to my desk, always within arm's reach. — Jordan Petersen

I love this book! Quick to read the first time but even better when you read it the next time and the time after that. I often flip through the pages to find an essay that is close to a problem that I am grappling with and often come away with a new insight. — Prateek Sharma

Absolutely love it. Listened to it and then re-read twice. The format, relatable examples, and core principles that I now try to base my decisions on. In fact, I was thinking if it's worth writing a review: because the book is so good it's a definite hell yeah. — Vytautas Alech

I discovered Derek Sivers on the internet because I wanted to know the head behind the idea "Hell Yeah or No". Then, when he released a new book with the same name, I immediately bought it. Glad I did it. I love this book because it is one of a kind. It is simple,information-dense, and impactful. I recommended it to my friends immediately after reading it. Even if you forget everything else from the book, Just remember one idea, "Whaterver scares you, go do it." — Martin Jeffery

A fresh take on a number of different advice-topics. Modern day philosophy at its best in my opinion because this isn't just a philosophical book but a practical one as well. Big takeaways were the importance of action (vs. just reading/planning) and awareness (paying attention to how you react to things). — David Wells

This book is a beautiful collection of short essays on life's essential themes, that can be meditated upon piece by piece. — Florian

The book often makes me think "Damn, I never thought of it that way", and for that reason alone I think it's a good read.

I've gotten many precious nuggets from this book and it changed my perspective and world views. — Mohammad Haikal

Every chapter in this book is gold. There are a few I think about all the time: "How to stop being rich and happy," and "Imitate! We are imperfect mirrors," and "Think of what you're miserable NOT doing." Now I want to go back and listen to the book again. Sivers' way of thinking is always fresh and unique, yet full of common sense and wisdom. — Courtney Daniels

I possess very few physical things but I own all of Derek's hardcover books.

At first I did not understand WHY I needed to own physical copies of his books. Especially because I already owned digital copies of them. Plus, I hate stuff and am always trying to get rid of everything. Books included.

So when he announced he was selling physical books IT MADE NO SENSE TO ME THAT I WOULD WANT TO BUY THEM! But I also could not NOT buy them.

And then they arrived.

I opened my package, took the books out (happened to LOVE the way they looked but that was still not my "why" for buying them).

I eventually found a home for them on a windowsill…

And then one day I walked into my living room to find my (not so) little kid holding his book. And it all made sense to me.

Even if you don't have any kids, it still makes sense to get the books - for you and for anyone else who might come across them. — Yalda Nemat

I've lost count of how many times this book has helped me get clear on what I need to do in a given moment. Always useful, always accessible. I see it less as a book and more as a tool I regularly use. Just as intended from pg 32. — Norm Wright

Sivers, more than anyone else I read, has a way of finding new perspectives with which to view everyday things. He thinks from first principles. I absolutely love engaging with his writing and reframing of the world.

Here's an example, and one of my very favorites: he was buying a house to live in with his son. It had a big living room. But he didn't want a living room; he doesn't just sit around on a couch and hang out and relax like most people do in living rooms. But then he realized the room was just a room, and could be anything he wanted it to be. So he called it a "making room", a room where he and his son go to make things. A soon as he did that reframe, he loved the house.

Each essay is 1-3 pages long, but has a lot of depth. Not every essay will resonate with every reader, and that's perfectly OK. There will be enough gems that hit home to make the whole, short book worthwhile for just about anyone.

Here's an except that I've been thinking about literally for months:

"Most musicians first record songs in the studio, then go perform them in concert. Fela Kuti did the opposite. He performed only new unrecorded songs in concert. Then once he recorded them in the studio, he'd never perform them again. I couldn't help but notice the similarity. It's as if to him, the recording was the end of the life of a song, instead of the beginning. It makes just as much sense if you think about it that way." — Rob Gonzalez

I LOVE it !!!
Thoughts-Hearts provoking, fluent and creative.
The book trigered a powerful creative process within me. — Ronny Weinberger

Concise insights that will change the way you approach life. Hell Yeah or No is more of a theme than a singular piece of information, and this book contains a new way of thinking on every single page — Kyle AKA zenmastaflash

Hell Yeah or No makes the deceptively difficult art of choosing so clear. If you can't say yes to a project enthusiastically, say no. It's a sure way to avoid living a life that is full of drags and obligations that you don't really want. I can't say that I am living this mantra yet, but it moved me in that direction and for that I am grateful! — Vi Wickam

As much as I love reading I am surprised how rarely a book can be considered life changing. 'Hell Yeah or No' is on my short list of life changing books. As soon as it was available I bought 20 copies to give to friends, family, and colleagues. So far 10 of them have contacted me to share something they changed about their lives as a result of reading this excellent book. Before becoming a Tim Ferriss Podcast fan I had never given a book as a gift (this is one of Tim's standard interview questions). The blog post this book is titled for changed my life so I had to buy the book as the first one I've purchased to give as a gift. Makes sense being that I first learned of Derek Sivers through his appearance on Tim's podcast. Thanks for the wealth of information and insights you share through your work Derek. You are helping people around the world with your work. — Edward Panas

I bought a copy because I *loved* "Anything You Want". Then I came back and bought three more for my best friends. A really different (and refreshingly honest and first-hand) take on quite a few things here. TRuly practical. Buy hardcover because you will want to have it lying around. — ILYA ULANOV

One of the best books I ever read and listen. Learned to make more time for the important things in my life. Thanks Derek :) — Tudor Sirbu

Delectable morsels of insight that shift one's lens on the world — Sandy Davison

Amazing little book, full of wise observations and 'gut punchingly' direct advice. — Ed Rivis

Honestly, this book is brilliant.

It's a whole bunch of golden nuggets of wisdom that challenge the status quo of thought. Many catalysts on how to reconsider life

A great book that can be picked up and revisited time after time, on any page! — Michael Hoffman

This book is a great companion for creatives and humans alike who struggle with productivity. The book is rational, brief and organized. Literally every page has logical and consistent knowledge. After reading this book, I ditched my personal instagram account. It's not worth doing. — Alex James Muscat

This book is a great way to reflect and move forward on your life journey. I found it motivational and it moved me to create new success. I have found after reading that I was inspired to go back to some of my dormant artistic projects to revive them and generate revenue. I was also able to cut off and let go of some of the projects that were just wasting my time and holding me back from the ones I truly cared about and needed re-kindled. — Doug Harper

Bite-sized wisdom and thoughts which help to focus on what's really important in life. — Patrick Mosby

Some of the simplest yet most profound lessons I've ever read. Literally had to put it down for a day after two pages just to digest it and make sure I didn't skim past some words of wisdom. Highly recommend this and all of Derek's books. — Mike Gluck

This book is like meditation. In times with a lot of stress, it helped me to calm down and brought me back down to earth. I had my friends read it too. — René Stalder

I read, re-read, and then read this book again. At times, it felt like Derek was reading my mind. Either that, or we think alike.

This book was full of wisdom, especially because I read it during a low point in my life and it helped me process a lot of life questions I too was thinking about at the time.

Overall, highly recommend. It is an easy read. But I would say...take your time reading it. Let the wisdom soak it. That is the only way to get the most out of this book. — Preethi Kasireddy

Every page of this book is a life lesson for me and anyone who reads it. There is so much precious content in just over 120 pages and it is incredible! As a young music manager and entrepreneur it is extremely valuable to read the experiences, perception of the industry and self approach to this lifestyle from somebody who really knows this stuff, who is dedicated to create tools and content that is useful to a lot of people. I take the opinions, experiences and advices of Derek not to necessarily change my perception, but to strengthen it. Suggest this book, and all the others (because I read them all), to everyone. — Giacomo Medda

Love this book. It was given to me by a friend and I have subsequently bought it and given it to two others as gifts. Both recipients loved it as much as I did. I wish I had read a book like this 20 years ago. — Jon Carmen

I can't quite remember how I came across Derek Sivers, but there's a lot of "First Principles" thinking embedded throughout the notes/thoughts in this little book. Even if you are familiar with many of of these ideas, it was wonderful to see it all together in this very enjoyable collection.

"Hell Yeah!" is about ruthlessly prioritizing things you enjoy doing. Related ideas about (myth of) context-switching/multi-tasking etc. come to mind as well as thoughts about when to poll and be interrupt-driven (almost never!). I am happy and grateful for what I am doing, but we tend to have a lot of these discussion at home with our kids so sometimes a simple message like this is quite helpful.

"I'am a very slow thinker" resonated with me as did a few other thoughts.

The shopping experience is pleasantly minimal, a bit of a throwback compared to the large online shops. In my early days of Internet, I was naive enough to imagine that we could be shopping like this one day ...

Overall, bottom line is to develop or tune your "First Principles" (thinking or doing things from scratch). This is a easy to read collection that drives home that and similar ideas. — Pragnesh Sampat

One of the only books I've read multiple times. It's full of practical life and business advice, with no unnecessary filler like most books. I love it. — Jesper Josefsson

I love this book! I rarely get the opportunity to say that, but I am saying it here. If you like the insightful wisdom of Seth Godin, condensed to short bits you can ruminate and advance the quality of your life daily, even in your busy schedule… you'll love this book. I find myself returning to it for one short chapter per day, often. It is not a one and done book like so many today. Derek continues to challenge your mind with wisdom that enriches your life with each short chapter. Including the wisdom in Chapter 25 which includes what that Pelican did to him while riding his bike along the 7.5-mile trail along a Santa Monica beach. Everything is an opportunity for a lesson in wisdom. — Brad Dunsé

HELL YEAH OR NO exists in the intersection between practical and revelatory. Derek's stories and ideas are incredibly personal, but at the same time, they hold up a mirror and ask the reader, "What do you see in yourself?"

And more importantly, they ask, "What *didn't* you see before?"

I'd highly recommend HELL YEAH OR NO to any creative person who feels like they're stuck or languishing. The book is compulsively readable, and while its stories and observations don't necessarily *solve* your problems, they do offer new perspective -- and they get you wondering if those problems are actually problems at all. — Erik Sabol

Reading HELL YEAH OR NO is a thought-provoking book. It feels like you are digesting soul-satisfying food. — Dave Krunal

An absolutely lovely read! It makes you think about your processes differently and elevates you into a more whimsical curiosity for life. 5 golden thumbs up. — Jesse

What a brilliant book. A lot of great thoughts that make one think and lightweight and inspiring to read. Thanks Mr. Sivers 🙌. — Julian Wohlleber

a beautifully written book that is meant to be read slowly and reflected upon. I have started applying at least 3 principles/philosophies presented in the book in my life. It was an enlightening and liberating read. I plan on reading it again. — Rishi Kar

I really like how concise Derek is in his writing. The book is great for picking up and quickly reading one or two articles to provide food for thought. I like to have it lying around the house or to take it me with me for occasions when reading will be brief and and interrupted. — Jan Tomiska

Clear, concise, fun, inspirational. — Hiren Patel

Every human should read this book. Why? Because we all think we have to say "yes" to so many things....and this books reminds you to say "no" more often. You will be happier and wiser after reading this book. — Lily Sprengelmeyer

They're little lessons for when you have a little time. I enjoyed it!

My favorite sections were Updating Identity, Saying No, Making Things Happen, and Changing Perspective.

I started journaling because of this book. Thanks! — Khanan Abayev

I really like the fact that you might think this book, and philosophy, is an "all or nothing" approach. In fact, it is not, and I like how that is teased out throughout the book. — John Rokos

If you want to flip your life, read this book! — Aida Escall

Love the way Derek wrote this book. I have a tendency to read a book and stop for a period of time and it's so easy to get back to reading this book. — Guang Xu

I love this book! I've recommended to many friends. — Wes Ory

It's a great read and I recommend it. It's probably best to give this to someone who is in high school before they make too many life-changing decisions. That said, it's better to read this now than never. — Jaspal

I think Derek is probably in the top five of most brilliant people alive. — Neil Pasricha

Great read, with bullet points of wisdom on every page. — Paul J. Campson

The most useful book I've read in years. Helped me figure out what I really want out of life. — Emil Nord

This book is packed with wisdom in Derek's beautiful yet simple writing. It helps you pose and think what's really important in your life. — Chin Chiang

A very powerful framework for living. It gave me inspiration to really examine how I am living - and helped me make some pivots in work and life. I gifted this to my daughter as foundations for her future thinking. — Matthew Laing

Should you read this book? Hell Yeah! A series of simple but profound essays on life and the principles we should follow when making choices. Derek spent a long time making each word count here. I plan on re-reading it soon. — Arie Litovsky

Thought provoking, easy to read but very relevant. It forced me to ask myself where I stand in many aspects of life. — Jaga Santagostino

A very quick read that's full of bite-sized, nevertheless very important, lessons. Using the "Hell Yeah or No" method to answer invitations is amazing! — Diogo Melo

A great little book containing pearls of wisdom from a modern-day sage! — Mark Kendrick

Our whole business (Hack Music Theory) was built on the lessons in this book! — Ray Holroyd

I loved it! It was a wonderful read and is highly recommended! — Jason Brownlee

if you are going to read only 3 books in your life, they should be the last 3 books by Derek Sivers. — Bruno Canepa

This book is full of short, thought-provoking insights! I listen to the audiobook for this, "Your Music & People", and Derek's podcast regularly. — Nick Culbertson

Amazing read that has so many life lessons that we need to be reminded of! Seem simple, but more difficult to change or maintain. Must read! — Cristina Varner

A vital message that doesn't mince words. Words that continue to inspire me daily to focus on what's absolutely essential. This book will forever hold a treasured place in my personal library. — Chris Kreuter

Derek shares lots of observations and great advice. Highly recommended. — David Quadhamer

Hell Yeah or No is a little collection of thoughts about living a better life and beeing a better person. And I love it for that. — Stefan Glöggl

Derek is my favorite succinct, yet thoroughly thoughtful author. HIGHLY recommend! — Gina Horkey

It is as if Derek and you are sharing a conversation on worthy pursuits. No fluff, just a friendly voice sharing what has worked for him. — Ari C. Salas-Porras

Would I recommend this book? HELL YEAH.
Derek has gift for questioning "common knowledge." His writing always gives me positive energy to observe my own thoughts and actions. Much Appreciation!! — Sean McHugh

"Hell Yeah or No" is one of those books that I pick up and re-read once in a while. Today's world can be overwhelming, so it's refreshing to take a step back and think about what really matters to you. This book is a good start. — Bowei Gai

Worth re-reading every year. Recommended to all my friends, sound wisdom as always from Sivers. Cheers! — Patrick

This book is a HELL YEAH. I have read this book multiple times and refer to it often. It helps when trying to make a decision or just get insight on life. It's packed with wisdom - like all of Derek's work. — Melanie Knight

This book expounds how to make effective choices given the shortness of our lives. — Matt Heim

Super concise book that presents different ideas on life and other things that makes us tick. I enjoyed it a lot and learned a bunch of stuff about how to relate to things that are and should be important to me. A really nice read, or listen in my case. — Anders Nylund

This books lives in a place in my house where I can pick it up anytime and read one of the short passages. Sometimes, I'll re-read an old one, sometimes I'll just skim quickly through one. Usually, I'll read until I find something that resonates with me and it usually doesn't take very long. Then, I'll set it down until my next visit. — Morgan Howard

I find Derek a great thinker. His writes brief passages that clearly express what he means. I read a page or two, and think about it. Recommended. — Espen Riskedal

I first heard about Derek Sivers on the Tim Ferris podcast and now have three of his books.

His back story is amazing and covered in a previous book.

This book is about identifying and doing what's important.

Lots of short ideas to help kick start your important work. — Neale Blackwood

Derek Sivers is a badass. He will make you question your paradigm and open up worlds you never thought possible. He does all of this in his signature quiet, poetic and humble way. — Tyler Lemke

Important and thought-provoking.
Excellent guide for self-examination—
something we all need more of. — Jonathan Merrill

I read this book in the first lockdown, and it was a great help to me, both in terms of focussing in and looking for the opportunities available to me, and through the calm wisdom by which the book is expressed. — Jordan Connell

Great book, love Derek's perspective on life. — Spencer Reese

I find myself coming back to this book all the time. There are so many timeless pieces of advice I simply love it — Charles Miele

Refreshing! Every page, every topic pushed my thought process. A gem that I'll keep revisiting again & again & again & again :) — Gopal Iyer

Wonderful book, full of short relevant lessons on life, but you will need to read/listen a few times to get maximum benefit. — Nigel Elder

What's worth doing? Reading this book to get perspective of what really matters and gaining at least a bit of experience from someone more experienced in life. — Bartosz Hernas

If you didn't read this book already, you should! Life is short, this book can make it better. My 12 year old son also thinks it is great! — Albert Vučinović

As always, wonderfully thoughtful, insightful and easy to access (crack it open at any page got a quick life-lesson) — Peter Best

The key lesson is "time is short" and needs to be prioritised, especially given all the distraction of modern life. I love this idea. — jonny edwards

I've read Hell Yea or No, and Your Music and People multiple times. Both are books you'll read over and over again. — Joe Romano

A very short advises that impact in your business and in the way you take decision. Amazing book! — Fernando colosimo

As with every Derek's book, it's a pleasure to read it.
The writing is great.
The ideas are firm and applicable - they give a fresh perspective. The question is - are you going to do anything with it?
Hell yeah! — Kirill Lazorenko

Fantastic book full of concise tidbits of actionable wisdom — Ryan Rogers

Very practical and useful philosophical advice. Not everything resonated with me but the bits that did made it worth it. — evan mcneely

A hell yeah book definetily!
Full of little nuggets for a better life. Very easy to read and listen.
It uses very simple words to describe scenarios and situations and how to deal with them. — Rafael Araújo

It´s an impressive and inspiring book that it´s worth every penny. You take action immediately, becoming more productive or taking better decisions. A must in your library. — Manuel Mas Candela

I own the hardback edition. Its outsides are just a tactile pleasure. Its insides are written in such a way it's easy just to open it wherever and feel you're reading a fortune cookie, only with more actionable content or just with more meaning. Most of the chapters have left me with a thoughtful 'Huh' in the end, for which I tip my hat towards Mr. Sivers. — Marius Gabriel Rusu

Very enjoyable book that helped me with my thinking, highly recommend that you read this. — Grant

A succinct and anecdotally driven journey on the pursuit of meaningful things, and the jettison of that which is not. — LeRoy Gardner

This book will stay with you for life. It's like your pocket mentor full of timeless advice. — Petr

Derek has a unique, welcomed approach to business and life. It has opened my mind to how I approach myself and others. — Cory Childs

Simple. Honest. Read it. You will be inspired. — Spencer

What a fun and inspiring read. The short chapters make it easy to just read here and there, but like the best chocolate cake, I kept going and devoured the whole thing!! — Ricardo Jomarron

Loved this book. Refer to it almost daily. — John Clemons

Derek Sivers has a unique voice and consistently says the unexpected: that's why reading him is so valuable to me! — Thomas Lascher

Highly interesting thoughts about what's worth spending time on. — Manuel Sutter

The "Don't be a donkey" parable is one of my favorites especially as a musician with interests in multiple styles and projects. And I reread different essays all the time, kind of like a "life manual" to refer back to. It's a really useful book to me. — Jeep MacNichol

This is a book you can pick up at any time, flick to any page, and prepare to be inspired. A different way of viewing every day situations that has helped me to be step back and observe the way my mind is working... and be way more aware. — Greg Sullivan

Derek's books are always thought provoking, they make great gifts for curious but hesitant artist-type friends. — Topher Keene

Lots of bite-sized wisdom here. Above all Derek's honesty about his own inner struggles and his thoughtful analysis of them is very thought provoking. — Michael Veazey

Your book has helped me make peace with myself about letting go of what I think I want to do, but actually, I don't. It's the only book that has a permanent place on my desk at the moment. :) — Pino Nguyen

It is a great book to share over coffee in the morning with my spouse. Easy to read and rich to ponder. Sparks interesting conversation. An excellent "couples" book! — Rob Cammack

Making your decisions strategic and not situational? Gold. No self-help-book-tones, elaborate morning routines, manifestation practice, or vision boards, just simple, real, lived out, evergreen advice. Can't wait for the next book! — Kayla Reiter

I love how this book is written - bite-size advice and tips. Easy to chew and digest and keep taking it! — Han Wee Lim

I love this book, it's one I like to reference back if there to get a new thinking on something. Keep it up and do more like this! — Jonathan Ciaccio

I love this books because it uplifts me when I feel confused and lost. Those times, it suggests me concrete and practical steps to move on and keep doing. I also love how succinct it is and how naturally it flows, the effort to pick it up and have a bite is really low! — Riccardo Volpato

Ideas are easy/cheap and most of us tons of them. The challenge is to pick which ones to start and very soon we get into that quagmire. Derek simplifies this for us. A must-read and do-not-miss book! — Suren Konathala

Simple & powerful

One idea, right words, and clear text to say what he wants say.

Derek es transparente — Osney

Love this book as a way to stay focused on honoring my yeah's and no's. If you struggle with this, I recommend keeping it by your nightstand or somewhere you can read some it everyday. Even the title reminds you! — Anne Cundiff

short and fun read with a lot of great takeaways. The "Hell Yeah or No"-Approach guides my decision making since i read 'anything you want' from Derek which lead to a much less stressfull and therefore more happier live. — Manuel Hügel

Loved this book! Fresh perspective that makes you think and look at your everyday life differently. Thought-provoking! — Andrea Kammerer

Clear and concise wisdom. Wish I was better at it, but at least now I know what needs improving :) — Henrik Saetre

The definitive guide to wise decision making and key questions in life. Everybody should read it, period. — Constantin Gonzalez

In a time where we are absolutely inundated with opportunities, this book helped me make better choices and live a better life. Highly recommended. — Garry Tan

Excellent little book. Lots of actionable wisdom in Derek's concise, fun style. Really enjoyed it. — JT Lehman

I always appreciate Derek's writing. Hell Yeah or No is great for when I'm feeling overwhelmed and need to step out of my unending search for efficiency and find more creativity, inspiration, and clarity. — Lance Goyke

I continually come back to this statement and perspective. This book is a "Hell Yeah!" — Dan Wingard

Hell Yeah or No has helped me muster the courage to pass on mediocre opportunities to give way for better ones. This has been a game changer for me! — Ian Slade

Great book! The advice and stories are very valuable to me. I use it often as a reference book which is the highest rating I could give any book. — Larry Clay

After I read this book, so many things became clearer to me as far as actions I was taking in my life and why. It helped to gain better consciousness of my life's choices in a way that I could clearly relate to learning and interpreting music. I ended up buying copies for a few of my friends! — Adam Bailey

I loved this book; it got me into a better state of mind. — Rolando Daniel Islas González

Love Derek's approach to book writing. "Hell Yeah or No" is yet another amazing book. I think this is one of those books that you should read/listen to once a year to remind yourself of the great lessons that lay in these pages! — Andrew Kalek

At this point in my life I've realized that I only have so much time to share with the world. Learning to say "Hell Yeah! or No" has been a big step forward in my ability prioritize activities and relationships. This book will definitely help you discover what is Hell Yeah! for you. — Barry Hess

Living in a world afflicted with the "blight of busyness" Derek Siver's succinct nuggets offer a practical yet genius perspective on how to stop the madness and choose what is truly worthwhile.
A great book that you will want to read many times. — Sherrill Mair

great little book of thoughts and unique reflections. I keep it on my desk and use it whenever I need perspective: I just open it and read a couple of pages. There's always something to take me out of a bad loop. — Helder Silva

An easy to read, yet very thought provoking, collection of times of choice and supporting stories providing an insight into (sometimes) alternative ways of thinking about them and coming to personal life decisions.

Derek is much better than I at succinct sentences (see previous) and I enjoyed the read and relating the content to events of my own life and times.

Highly recommended! — John McLaren

Business philosopher (my term, not his) Derek Sivers takes the long view and questions most everything. There's much to be said for a book like this – one that avoids pat answers in favor of raising questions and offering alternate points of view. — Matthew Fenton

I truly appreciated this book. It was a thoughtful collection of original introspection. I am certain I will come back and read it several more times. — Kunal Saggar

Great read to re-center your work, purpose, and decisions. I read it all the way through and now keep it on the nightstand and digest a few tidbits whenever it feels right. Great book for yourself and for a gift for a friend. If you're wondering if you should own this or not, the answer is 100% a "hell yeah." — Tim Felz

Derek articulated ideas here that I have not managed to articulate myself yet. Helpful for brains that tend to get caught in analysis paralysis. — Michael Schwanzer

i keep this book on my desk to remind me what's worth doing — Ali Nawab

Very succinct, pithy writings saying essentially don't waste time on living half heartedly

Great advice!

Dave Hall — Dave Hall

Many, many golden nuggets in this book. I found myself telling a lot of people about it and that they should buy it. I didn't want to forward my copy to them because if you can't fork up the few dollars for your own copy then you're not really serious... and you need to be serious, to at least a certain degree, to get the most out of this book. — Barry Mc Cabe

If you struggle making decision this book is for you. Actually... if you ever make any decisions at all, this book is for you. — Max Palmer

I love this book, Derek is my favorite thinker/author, his wisdom and practical advise got me through bad times and continues to guide me moving forward.
Listening to and reading Derek's work is simply meditation for me. — Mahmoud Elmoraly

A book full of simple and practical lessons for any one at any phase of their life. — Nirmal Srinivasan

This is a great book for someone who thinks differently than Derek (or me). Reading it was great for me, but most of it was "yeah, of course, I know". Not saying that as a bad thing -- simply saying that me and Derek are thinking similarly about a lot of things in the book — Filip Stanojevic

Love this book! Can pick up at any time and get a nice little lesson or anecdotal piece of advice. — Doug Harvey

The best decision-making framework in the world! — Manjula Liyanage

Great book to come back to now and then. Sometimes, when you feel lost, just 2 or 3 chapters are enough to make you think straight again. — Noah Marro

Hell Yeah or No is concise and insightful. Derek doesn't waste your time, he gives his thoughts and lets you decide what to do with them next. The book is rich in interesting ideas, and I loved it. You will too! — Andrew Wilson

Truly inspiring. Great source for asking yourself the right questions and to reflect on your thoughts and actions or non-actions. Thanks. — Rainer Hainzlmaier

Excellent read. Insightful ideas without the fluff! Great for those of us with short attention spans. — Nathan Thompson

This is the first book I ordered 5 copies of without even reading it. And I'm glad I did. One for me and four to give to others. I've handed out three out of four so far. And their sentiments echo mine: this is one of the best books I've ever received. When I run out, I'll be ordering more. — Daniel Bourke

Derek's positive and unique perspective and the ease of reading make this book a 10/10 recommendation. — Nathan Van Curen

Classic. Brilliant. Good for college grads and old industry folks alike. — Joe Sack

I loved the section called "Changing Perspective." In clear prose with clear life examples, DS shows you how you, too, can change your perspective with a little shift in thinking. — Andrew Boden

This book is insightful and goes far beyond what is implicit in the title. Tips and advice for how to apply it and when it isn't the right time in someone's career to adopt the principles. — Michael Twardowski

Wonderful. I've been using this as a daily journal that I reflect on. Thanks Derek! — Austin Moore

An amazing collection of ideas. I got stuck on some pages for weeks thinking on how to apply some of the learnings in my own life.

Thanks Derek for an amazing book. — Henri le Grange

Helpful framing around honoring what's most important to you in life. Plenty of practical examples. Derek has a refreshingly unique mind, and I enjoyed hearing his narration of the audiobook. Highly recommend! — Adam Gray

This is a must read book. Straight to the point, educational on how to live a meaningful life. After reading/listening to it multiple times, I'm still referring to this book to make key life decisions. — Michael Boutin

A great little book with lots of inspiring thoughts and ideas. Definitely got me thinking. I will keep a highlighter at hand next time I read it! — Susanne Posch

Clear, concise and compelling. These three words have been a guide for me as a writer and creative for years. No one does those words justice more than Derek Sivers. His books, much like the title of this one, cut directly to the point in a way that is simple, easy to remember, and most importantly, easy to implement in one's life. I recommend his books more than any others. Well, besides perhaps Stephen King. But who can blame me for that? Stephen King has like 60 books. — Dan Drake

Life doesn't come with an owner's manual, and we make many mistakes as we navigate our journey over the years. Reading Derek's book may spark some insights that can enable you to make better decisions faster for yourself (while avoiding some of life's missteps). — Kelli Richards

This collection of stories is such an amazing find. Some chapters are practical and instructive, others are philosophical and poetic, but each one teaches an important lesson that can set you on a new path. My personal favorites are "232 sand dollars" and "There's no speed limit". — Danil Karpov

Book packed with gems…tilting the mirror…has changed my driving attitude…no longer stressed by those behind. — Michael O'Farrell

Loved it! Absolutely worth it. This book is full of really great advice to make things happen, but different from others (blablabla and repetitive) productivity books. — José Antonio Mariscal Peñafiel

We life in the age of information overload. Every day brings new possibilities, ideas and distractions. In this book Derek has come up with a simple philosophy on how to navigate the modern world and ensure your limited time is spent on the things that really matter. — Stephen Morrison

Simply put, one of my favourite books to read and I'm not easily impressed! — Michael Diener

"Hell Yeah Or No" another well written book to learn from. I thought a lot about what's worth doing, fixing faulty
thinking, and making things happen, but without this book I think I would have stopped at the crossroads. Great knowledge written in this book. I would not hesitate to refer it to many of my collaborators. — Jennarosa

Great collection that inspired lots of reflection (e.g., how I agree/disagree, contexts in which ideas do and do not apply). Thanks Derek! — Ross Walker

Hell Yeah or NO it's a book that helps you to think "slowly" about you, your life, your future, your job.
You can't find the rules for being successful but you can find the rules to open your mind.
It's a great book! — Stefano Andreucci

As the title implies, this book is a great antidote to 'paralysis by analysis' or "overthinking." It looks at common notions that limit our options and sabotage our ambitions and replace them with ones that are freeing and help us get to know ourselves better. — Walt Sargent

I loved this book. It's a treasure trove of wisdom nuggets. I re-read it often, flipping to random pages when I need a little inspiration on how to focus and remember what's important in my life. — Jamie

Great book by Derek. An interesting twist on how to priorize our time and therefore our life. — Tyler Cornett

I've re-read this book a few times now and it's awesome! — dan hawkins

Punchy as hell, and packed with wise ideas for living. It's a book I'm always happy to pick off my shelf and dip in and out of. I love that I always walk away with something new and practical to try in my own life. — Dan Cullum

A best-of collection, from Derek's neat, quirky and smart blog posts over the years compiled in a beautiful accessible book form.

Excellent coffee table book!

Highly recommended! — Magnus Ramstad Dahl

Very well written and succinct book that hammers home the importance of protecting one's most valuable resource, time. Truly great for the opportunity to read this book. — Jace Cohen

short but incredibly thought provoking book; I have read 1-2 pages at a time and pondered about the wisdom and insight in those pages all day. — Amit

The book, is like a breath of fresh air. I'm glad that the author put a collection of his thoughts & learning into a book, with such lucidity that other could resonate with them.
A lot of them echoed with mine on multiple levels, hence it was refreshing to see the same things in fresh light.

I will definitely see myself referring back to quite a few of the sections in time. Maybe re-read it too. — Venkatesh Khanna

This is a great book that has helped me immensely in prioritizing what to involve myself with. — Sam Havelock

This book is on my phone as go to resource. I've listen to it 4 times in its entirety. Road trips, walks, every time something has clicked with a decision, struggle, adventure that I am facing. — Luis

Nuggets of gold in every succinct chapter. Derek makes it easy to refresh and reset perspectives in less than an hour read. It's one of my top gifting books, because it's too good not to share. — Irene Strong

This reading was very important for my life. How I choose projects to work on is based on many lessons available in this book. — Daniel Wildt

I've been following Derek and his writings for years. This book is as insightful and thought pondering as all of his other writings. It's well worth the time to read, which won't take very long, because Derek writes to get the point across and not to add more words to his tomes to make them appear of more substance ( and costly to print). There is plenty to think about in all of his writings, even the single sentence ones he scribes. Highly recommended. — Tim Merrill

I am quite attached to this book. It should be required reading for all people as they first enter into the complexities of their life. It helps a person see things from many different perspectives and dimensions. Each chapter is a delightful morsel to sample like a dessert in a 5 star restaurant. Tasty and leaving you wanting more. Then the sad moment comes, you've finished the book and there's nothing left!! Then just re-read it! I'd say Hell yes to this book. — Steve Kusaba

A book that is a life staple. Important to read every year to stop your life becoming full of meaningless obligation. It is like an energy shot for the mind! — Rebecca Baart

What I love about Derek is that he focuses on quality instead of quantity. This book contains so many gems, if you would re-read or re-listen to it every month, I'm convinced you would find new learnings every time. What really helps me to memorise most of the content are the great stories Derek used to transmit his messages. Best example: I still remember exactly how he describes his red face while riding his bike at a high speed!

Great read, and has the potential to be a timeless piece I can always come back to. Great job, Derek! Thank you for writing this. — Kevin Drechsler

Derek is a seasoned entrepreneur that knows the true secret to success—focus on ONE thing only and say NO to the rest. Kenneth Cole put it this way:

"Success has less to do with what we can get ourselves to do and more to do with keeping ourselves from doing what we shouldn't." — Max Shapira

'Hell Yeah or No' is a wonderful little handbook to have by your side. Derek's reflections on life and work are always worth reading - you're always sure to find valuable nuggets that will get you looking at things differently. — Ian Sanders

You were waiting for thousands of years to get on this planet. Now that you are here, what are you going to do?

Sivers has some suggestions. They are spot-on. — Laurence Endersen

For someone like myself who often finds themselves in perpetual state of "meh", "Hell Yeah Or No" is highly recommended. Reclaim your time and ultimately your life with what is presented herein. — Ivan Orr

Wow it's been a while since i read this one, but i truly loved it.
There were so many nuggets, but what definitely stuck was for example.
- that actions and not words reveal your true values
- getting out of a bad state of mind
- or that goals should shape the present and not the future. That they should help us to change our actions in the present moment
I think it is time to reread this masterpiece :). Thanks Derek! — Dustin Schermaul

The book draws on lessons learned and insights gleaned during Derek's unique life journey. I enjoyed it so much, I bought a second copy to give to a younger relative – which he loved! — Tom Wilson

I've never met Derek, but he feels like an old friend. I've known him for nearly twenty years through his emails and writings. A man well beyond his years and brimming with wisdom, his books are a pleasure to read and a window to the future, when man finally wakes up to the mess he calls life, come here for some of the answers. Inspiration and courage ooze from every page. Hell yeah! — Charlie Abel

It pays to explore the world through as many eyes, lives, and experiences as possible. Our 'Vibe Tribe' provide perspectives helpful to us in navigating reality. This is one such book. Do Read. Do Enjoy. — Erlank

A good basic book to help you decide what you should do and not do in life. I highly recommend. Nothing unneeded in this book to waste your time it's to the point something I love about derek. — Ted Efthymiadis

"Hell Yeah or No" is my kind of book. No fluff, clear and to the point. Some readers might find that it's a bunch of blog posts crammed in a book; I didn't felt it. In the end, the motto "Whatever scares you, go do it" closes the loop perfectly on all pieces of advice given throughout the book. I'll be looking at buying his other books! — Guillaume Lambert

It's very short, which is great. And a lot of the ideas are thought-provoking. Derek loves parables and fables, and like most good parables, his book isn't so much instructional, but a way of thinking. He gives you ideas and frameworks to think about your own life. I dug this. — Al Ibrahim

This is a compilation of short articles Derek put out over the past few years on his website. While I had gobbled those up as soon as they were posted, I really enjoyed reading a second time in one sitting. I tend to highlight takeaways as I read new books, and his writing is so concise that I wanted to highlight every single sentence in this book. — Brian Rounds

Pure gold as usual from Derek. I love his ability to share amazing insights in such a simple, yet engaging way. A must read book for anyone. — Dayne Herren

It's one of those titles that isn't meant for every situation. But when you apply it at the right time, "Hell Yea! Or No" gives you one of those smiles that makes people think you're up to something interesting. — Joel Cherrico

I love the topics, the short chapters, the insight, inspiration and experience shared. This book affirms and encourages, as I can relate so well. It is so refreshing and poignant! — Sharon Dolenc

Dereks short essays have massive impact.

What I love about Derek's books is this:

I spend more time thinking about what he says than I do reading his words, (opposite for most books lol).

Incredible advice for those willing to question their beliefs and look deep inside their psyche.

Derek is on my "I plan on read everything he writes" list. — Ryan Kelly

Derek is that friend that you always want to talk to—but you sometimes avoid, because their advice is always dead-on correct. Thank you for the guidance. — JD Torian

Hell Yeah or No is one of my favorites and the book I recommend most often. I use the title as a way to answer questions both personally and professionally. — Scott Reaska

You'd think the title tells the story of the book. But not so. This book is so much more packed into an easy read. If you've read "Anything you want" by Derek, this is a great follow up. — Peter Sanchez

Despite the modern criticism of black and white thinking "Hell Yeah or No" provides an extremely useful binary test that can help guide your life choices. Excellent, transformational reading! — Ben Crowl

Well worth reading! There is so much wisdom in this book, that it's hard to crystalize it in a few comments. Take as an example the chapter "Getting out of a bad state of mind." These five steps to get out of a bad state of mind alone are worth the price of the book. I am savoring this gem of a book, line by line. Thank you, Derek Sivers! — Bruna Martinuzzi

Short, succinct chapters without the padded fluff of commercial self-help and business books. Enough words to present an idea and a way of looking at it. Then it's up to you how to apply it to your own life. Highly recommended. — Heidi Berthiaume

Each chapter is short but inspirational. Like the title of the book, if you're not feeling "hell yeah!" then say no! It's nice guidance and the concept affected me a lot especially this year. Naval Ravikant also has a prominent quote with the same ideas "If You Can't Decide, The Answer Is No". — Qing-Qi

This book is a thoughtful exploration of what we say yes or no to and why we might want to think about that. Short chapters that had me thinking and reflecting on my decisions and how I'm spending my time.
I enjoy quotes and this book is full of them from many different sources.
I think it's a good one for a Bookclub if you're into that, it's a interesting way to start a deep conversation.I highly recommend this book. — Rae Heta

This book is packed with so much wisdom. So many of these lessons had a profound impact on my life. I am very happy to have found this to help me figure out what's worth doing. — Jason Kunio

The key concept behind 'Hell Yeah or No' is one that's vital for anyone trying to stay focused and succeed in any area of their life. It's certainly something I've been working on and what lead me to this book. It's a book I'll revisit certainly and connects on a personal level because of Derek's unique honest, insightful delivery, and look on life. I loved it, and you will too. — Glenn Hanstock

I loved the insights Derek shared in this book. After working through the important early years of saying yes to whatever comes our way, flipping that approach to only saying "Hell yes" shows wisdom and maturity - and it's freaking liberating! — Nathan Phillips

The insight-per-word ratio is high. Kind, clear, never patronizing, instead precise and relaxed at the same time. Makes it painless to let go of some outdated beliefs... I started involuntarily siverizing many of my decisions. 11/10 — Antonius Koch

This ended up to be a companion more than a book for me. I often go back to it, looking at the contents and reading the bits that inspire me at that moment in time. And it very often makes me stop to ponder what I just read and challenge my beliefs and preconceptions. — Stefano Dacchille

I have always found the greatest learning comes from compact wisdom. In "Hell Yeah or No", each chapter can inspire profound realization and positive change.

For example in talking about how actions reveal our values, Sivers says, "Start doing what you say you want to do, and see if it's really true." Simple, right? But as a person raised to always be pragmatic instead of true to my vision, this was profound, because I had ten other pragmatic projects distracting me from my dream. Putting those aside, I found focus and instant joy pursuing my ultimate goal. That makes it clear to say "No" to the side projects, and "Hell Yeah" to doing the work I love.

[Kelly Ian Hobkirk] — Kelly Hobkirk

I appreciate Derek's pithy wisdom for life. I read one section per night with my tween child and it was an amazing bonding experience. Thanks, Derek! — Damien Hoffman

Phenomenal! So many small little lessons. I love how short it is (most books are too long!) but every page is jammed with wisdom. I find myself re-reading it often and using the advice to help others and myself. — Bryan Duffett

A very, very good guide on how to choose correctly and where NOT to spend your energy and time. Get it. Read it. Recommend it. Then read it again. And again. — Santiago Granados-Mann

I read this book right after I read "Your Music and People." Just browsing the table of contents, this spoke to me immediately. I read only a few pages or short chapters daily so I could take time to reflect on the concepts, sometimes profound in their simplicity and other times in need of contemplation. If you're ever short on inspiration, this is a book you'll want to pick up and read again and again. — Steve Gulsvig

Great book. So many useful lessons in here. Profound, applicable, and easy to read. 10/10. — Smith Wilbanks

Not long after purchasing Hell Yeah or No, my wife and I had an opportunity to buy a business that is local based. I read the chapter 'You don't have to be local' and we decided we wanted to be local and reading this made me feel alright with that, in knowing that's where we want to be right now. Thanks Derek for your words of wisdom. Luke — Luke Carpenter

Let me just say, having finished it yesterday, I went straight on and started on a music project I'd lost interest in last year. Listening to this book/words just made me think

"HELL YEAH!"

So at the very least it was inspirational.

What I liked about it is he doesn't come across as a "typical expert" who goes into technical stuff to make themselves look clever. It is best summarised as simple statements backed up by anecdotes that tell the story and amplify with real life examples.

Clearly the song writer in him comes out very strongly.

I found it interesting and it challenged my thoughts at times, and even made me highly aware that perhaps (in the aforementioned music project) I just needed to make a decision.

And that I did. And it was "Hell Yeah"

So thanks for putting the challenge out there, otherwise I might not have read it and still be pondering and procrastinating. — Vince Barnes

Love it! Derek's short chapters are positive reminders to help us keep doing what matters. I've bought a handful of copies as gifts. — Brian Seymour

This book makes you realize why you need to say no to all the BS in your life and why you need to say YES to the things that matter.

So many insightful short chapters and vignettes. I highly recommend this book. Of course you could just read his site, but it's nice to have this collection of essays all in one place and the book quality is amazing. — Joey Chang

This doesn't seem like a book to me, so this isn't what I think of as a book review. Hell Yeah or No is more like a collection of volatile thoughts that spur cascades of reflection on my own situation.

I can't read more than one or two pages without putting it down, so I can ponder.

It is a call to tread between the lines and on the edge of current cultural and artistic accepted thought. As such, I can't always "agree" with certain provocative statements Derek makes.

Luckily he's one of those that doesn't seem to want or need that. He's like a (merry) prankster more than a guru.

I showed my wife several passages, and she got it right away, and that's really something to spark someone who isn't that familiar with his work. — Marc Coleman

A collection of essays by Derek that you can find on his website. While at times Derek pushes a bit far into the cult of self (there is no objective right or wrong, it's just whatever you think) a lot of his essays are great thought experiments and exercises to get us out of a rut of lazy thinking. Well worth a read, and best done in short spurts rather than straight through. — Stephen Heiner

Fantastic book, as is anything that Derek puts out. Derek has a way of expressing deep, meaningful truths in a way that you already understand to your core and are just being reminded of. I frequently reread this book whenever I need to realign my values and goals for life. — Justin Lingenfelser

This book is a collection of Derek's writings over the years, all of which make for an interesting read. His posts (which are chapters of this book) are short, and to the point. There is no beating around the bush or proving the same concept from multiple angles - no fluff to simply fill pages. The writing is clear and concise, hitting the nail straight on the head, providing a very high signal to noise ratio. Highly recommended. — Tejas Gutka

It is a book full of wisdom. Precious and important, truly a lifeguide. — Victoria Bjuringer

Not only do I love this insightful little book but I shared it with my 84 year old father who now tells everyone who will listen about THIS is the way to live life. — Jennifer Burrows

A wonderful compilation that includes many of the key advice that made me fall in love with Derek's writing. Ever since I first read/heard it, have adopted the title itself as a guiding principle in my career decisions. A great book to revisit periodically. — Neil Mumm

TERRIBLE FOR HIGHLIGHTING! I like to highlight as I read so I'm able to note passages that really strike a chord. However, I had to put down the marker after the 5th page since there was more yellow than not. I guess I'm just going to have to read the whole book again. Slowly. A few more times. — Erik Thoren

If life is an exhilarating roller coaster ride, then this book is the safety belt of your seat.

It keeps you on the edge without falling - that's your edge.

Enjoy the ride. — Tony Xia

Anyone who knows me knows that I'm a big fan of his website. So when he released his new book, Hell Yeah or No, I couldn't resist reading just a little bit of it. Well, "a little bit" obviously turned into "all", and I spent the whole evening relishing it.

In typical Sivers style, he really only says what he needs to. Each chapter is 1-2 pages, and provides just the seeds of an idea (or the counter-melody, for you to find your own combination, as he puts it).

Motivational, provocative read about all things life. Definitely worth the read!

Here are my highlights:

—

What would you do then, if you didn't need the money and didn't need the attention?

Start doing what you say you want to do, and see if it's true.

No matter what you say, your actions reveal the truth. — Martin Rue

This book truly changed my life! Plus now it gets to change all my friends' lives that I gifted it to. — Nicole Costello

A compilation of Derek's blog posts loosely related to the book's title. Very inspiring droplets, with each chapter standing on its own. Works very well for picking up sporadically, re-reading one or a few from time to time and getting a boost from quick, exciting and potentially life-changing lessons. — Bernardo Salazar

I found this book at the perfect time in my life. I realized that I was spread too thin and suffering through each day because of it. Who would have guessed that my problems could be solved with a simple saying. This is the kind of book to read over and over again. It makes a great gift as well! — Jarrett Wenzel

Surprising little book on how to live life. Sivers listens and notices. You will value seeing the world through his eyes. — Adam Baybutt

In Hell Yeah or No, Derek Sivers often articulates the gut feelings I have which I don't always listen to. Like doing more and more, rushing, and being constantly distracted. The book served as a reassuring voice to do things at the pace that's best for me. Everytime I start slipping into old habits I know I'll revisit all the sections I highlighted! — Rhys Pearce-Palmer

Derek has a way of bringing real life experience and personalizing it with this offering. Derek has a pioneering vision for his life that I have come to greatly appreciate. I value his experience and his friendship. He is an inspiration to get to know and I enjoyed this book. Thanks for dreaming big Derek! — Jim Vilandre

Hell yeah! An "owner's manual" for daily living. A necessity when checking under the hood. Derek Sivers, our contemporary Baltasar Gracian! — Peter Joly

This book is a guide to a no nonsense way of living. You can tell it comes from the heart and Derek's past experiences of successes and failures which allow you to put yourself in his shoes for whatever is going on in your life. Derek is the best, why are you still reading this review when you should be saying Hell Yeah to buying his book. — Tom Polifka

Derek has written from the heart.... again. From his miles of travel and a lifetime of varied experiences he shares the adventures with us with distilled wisdom. A joy to read and a pleasure to share with my students at the Berklee College of Music. — Ralph Jaccodine

Imagine getting well thought trough advice from your smarter, greater experienced best friend. Who only has your better interests at heart. This is what these books read like.

Well written with a sense of warmth woven throughout. Beautifully concise yet with a lovely flow.

I got hard cover copies (signed! Thanks, Derek) and was delighted I did so. As these are books you'll be returning to over the years, with every page to second page ear marked for reference.

Don't think 'Your Music and People' is for musicians. It is, but it's mainly for every person interested in making their mark in any industry. Indeed, the books combined, are for anyone interested in making their mark in life. Whatever their path. — Will Griffith

Always like the way Sivers simplifies things so they really click and therefore can make a positive change in your life. Really recommend this book! — Tjalling Dijkstra

Inspirational, thought-provoking, sincere, and speaks directly to the task of creating a strategy for conducting ones life. I was so inspired that I used many of the ideas that spoke to me to write a poem entitled Strategy, that is part of a larger work dedicated to my grandkids. — Rick Fogel

This book holds the secret ingredients to living life to its fullest! — Steve Kelly

I generally don't subscribe to "how to live" books… but dammit, this one just works! — Sean Michael Dargan

What's worth doing is reading this book. Just read it. You won't regret it. (Or any of Derek's books for that matter.) — Adam Griffin

Derek Sivers is a very special person who is courageous, curious, experienced, kind and honest. His unique perspective is so valuable and presented here in a very simple and creative way of contributing to the wellness of the planet. — Darren Kramer

Great book! The title tells it all, but a great, great read, cover to cover! — Jim Gunther

I have enjoyed Derek's clear and concise writing style and Hell Yeah or No is a great pickup and go book to get your mind right. — Nick Mendler

Loved this book. I think of Derek as an accidental Stoic, something I aspire to be.

Derek is one of my top 5 digital mentors. I listened to the audiobook and received a signed copy. — Dave Colley

To this book, I say Hell Yeah! Perspective is everything and saying "No" is a powerful little word. Loved it! — Lisa Yves Winner

Thought provoking and action inspiring. I love how short each chapter is, succinct and to the point. — Yi Peng Neo

Lend this out to everyone. It's a must read. — Blaine Bassett

I absolutely love this book. I listen to the audiobook while I'm working all the time to really ingrain the ideas and ways of thinking into my head. I also have this book hardcover since I loved it so much! — Cameron Escovedo

Thinking of buying it? Hell yeah! — Magnus Hjelm

I absolutely loved this book!
It gave me so many tips to look at things from a different point of view, and this honestly often changed the way I've doing things ever since. Thanks Derek.
Sandra — Sandra Mori

This is a great book, I need to walk around with a 'Hell No' necklace, or write it on my hand to make sure I remember. I also love the story of how Derek Sivers started CDBaby, by helping fellow musicians when they needed a hand uploading their information to a website, which would have been time consuming and I'm sure he had other things to do. Just a nice guy helping other people. It is good in that moment he didn't say 'no' even though he probably didn't feel like it. This moment of saying yes, when many others could easily have said 'hell no' led to the making of an incredible company. So, in summary, it is good to say 'No' more often, if you can help someone out it is good to make an exception and say Hell Yeah too. Thank you for making this book!!! — Anita Soto

This book rocks! I've read it three times and learn something new every time. — Isaac Despain

This is the first book I have given myself permission to "write in". I have underlined passages, written notes in the margin. When I first got it, I read it straight through doing my annotating. Now, I open it to a random page and see what "lesson" I need for that day. It's a terrific book. — Karen Pancoast

A concept that resonates deeply. Derek has a way with words that few do — David Diaz

Yet another Derek masterpiece. — Jim Zachar

It's the secret to a life well lived. — Michael Bungay Stanier

A beautiful, clear, inspirational collection of wisdom. I pick up this book, turn to a random page, read it, and always leave a better person than before. — Eric Robertson

You can find most or all of these chapters on Derek's website. The value of this book, then, is that everything is in one place (no clicking links!). Nonetheless, I would buy this *just* to listen to Derek's narration, I love it. — Chris Lakin

Great read - straight to the point — Jim Varga

Improves clarity of though like no other Book! — Marcelo Tavano

It's actually a fine book. There are so many examples that the author gave birth to his life, which can be overwhelming at times. Apart from these, it makes sense when you focus on metaphors, not examples, and there is already such a section in the book. — Ender

I bought this book merely because Derek Sivers wrote it but like all of his writing it was concise, helpful, and enlightening all at the same time! — Paul Mignard

Great read and very insightful. Love Derek's perspective on things. — Eric John Kaiser

Nuggets of gold to live by. Highly recommend! — Stuart Balcomb

I really like Derek's philosophy and his writing style. This book really inspired me. — Simon Carter

An enjoyable read, makes for a great lesson-a-day book to chew on over a contemplative reading schedule. — Luke

This book got me thinking. So good! — Stefan Frede

Hell Yeah! Derek, your logic is outstanding.
Good reading. — Pete Fegredo

I recommend this book to everyone I know. A simple read with profound life lessons. — Brandyn Shoemaker

A great read with a lot of insightful ideas I find myself recalling quite often — Freddie Long

This was a new favorite for me, tight and concise as always. Great read for 2021! — Travis Hellstrom

I love hearing Derek's thoughts. I really like the way he thinks. Great book, you will enjoy it. — John Erbert

One of the books to frequently reread! Always thought-provoking. — Jan

Love reading this book. So concise and thought proving that I'm constantly putting it down to dream and reflect. Can't remember the last book that did that and I'm only 10 pages in. — Roberto Cavarra

Hell yeah! What more to say? — Eric Noel

Great little read full of wisdom — lusiyo

This book is a valuable set of tools to help making decisions, loaded with golden advice in-between. All explained in easy to remember stories. It's one of my goto books. — Frederik Gowy

Asks you the questions that help you get to a new perspective and plan for life. Sharp and to the point as ever - Derek is a life master. — David Beckett

I love how this goes to the point, no rumbling around — Thibault Vilon

What I enjoy most about Derek's writing is what it causes me to think about. I catch myself often sharing insight with others regarding things I thought of while reading this book. Looking forward to reading "How to Live" — Tim Pettinger

This book will set your brain alight in a good way - it will make you think, make you question, and it might just change the future path of your life. Derek cant wait from the new book which I will consume for sure after its called "How To Live" — Paul Saunders

From a reader of Anything You Want, I'll say this book is another awesome MUST HAVE book in your read list. — Martin Vista

easy to read practical advice!one of the books that you can;t stop putting down after starting! — Roxanne Malaluan

You don't need to read this cover to cover. You can dip into this book at any point and find something useful. What I like about Derek Sivers' work is that he's not trying to impress, just to be honest, and integrity + experience can only result in useful perspectives. — Paul

Great wisdom in book format. — Ricardo Cardoso

I have shared some of the chapters with friends and often find myself thinking about the stories in the chapters and the title is a useful phrase to use in life in general. — Adolph van der Walt

As usual, Derek Sivers hits the mark with his usual common sense & concise reasoning. Wisdom for un un-wise world! — Albert Blatter

A gift that keeps on giving. A compact, compelling dose of obvious, yet not at all obvious, wisdom on how to tackle the many inevitable obstacles of life. — Gregory Root

Great read with insightful information. Enjoyed reading one section every morning to start day. — Jason

Going by life with this approach... it makes life easier and happier ! — Mathieu Arseneault

As Groucho Marx said, "Outside of a dog, a book is a man's best friend. Inside of a dog, its too dark to read."
Derek's writing shines light in places hitherto unexplored. BUY. SHARE. SMILE — Burn Gorman

Wonderfully practical advice for a more fulfilling and worthwhile life. — Haz Said

Definitely a Hell Yeah reading this book over and over again. — Zoltan Flamis

I always enjoy reading Derek's work. — Ryan Van Matre

I especially like the idea of ​​10 years - to study one thing. And then - another, etc. I can learn and do a bunch of things. A bunch! It's true. And this is such a relief.

And idea "Think like bronse medalist". It works for me. And it's fun ;) — Наиля Шаймарданова

A wonderful decision-making guide that can benefit anyone. — Ken Liu

I admit that I have a hyperactivity problem. I am genuinely interested in almost everything, and finally, I got it. Finally, I had a clearer vision of what is worth and what I need to be actually doing. — Marc Andreu Fernàndez

As always Derek's books are a great quick read that is insightful and reminds me what I need to focus on! — Kevin Allen

short stories, but none the less - or better, because they are short, very helpful - thx derek! for me the most notable one is: Your actions show you what you actually want. rs — raphael stucki

Derek's book is always very thought provoking. I know some people say that ohh these are all just blogs (as they have links on the bottom of each article in the book), and they felt like they didn't need to pay for it. I think that's for the better. You don't NEED to pay for the knowledge, for sure. Sivers has everything online for free, so everyone could learn. This is something that I LOVE about. I grew up in China where knowledge is a privilege not a right. I feel like sometimes copyright is similar where the bar is so high for normal people to reasonably reach (e.g. Microsoft charging $$$$ for their OS & office suite, Adobe, etc.)
I chose to buy it because
1) it's well organized,
2) it's physical,
3) the book texture feels AWESOME (inside paper AND the cover),
4) it's a really nice little gift for friends (instead of sending them links).
5) I can support the other writer back a little, as printing/publishing costs money.
You certainly don't NEED to buy it but I would buy it again for sure! — Jingjing Yu

Gives direction. Thought provoking. — Matt Javit

— Anton Chukin

An ultimate guide to decision-making! — James Pearson

It's a big "Hell Yeah" for this book! It is soooooo worth reading. — Steve Mitchell

This little book is a Hell Yeah. It gets you thinking in new directions. — Nancy Ruth

I really love(d) it. Can't wait to read "How to Live"! — Darshaka Pathirana

Great read. Short, sweet, and full of bit sized nuggets — Michael Skinner

Felt like a good friend reminding me to slow down and remember what's important. — Roger Aradi

I love this book - and not just for the reassuring old fashioned hard cover in yellow which reminds me of my dad's books. This quote says it all about this book: "Most geniuses—especially those who lead others—prosper not by deconstructing intricate complexities but by exploiting unrecognized simplicities."
― Andy Benoit — Suzi McAlpine

Just embedding the book name itself as a rule for making any hard decision is already invaluable.

Read the entire book to truly internalize this simple rule, but an utterly important method for decision making, which will save you thousands of hours in your lifetime. — Aero Wong

Challenging ideas and perspectives on modern life, especially in the overwork tech economy. Really enjoyed it — Ben Caisley

Simplicity. The only tool you need to live a good life through your choices and actions. — Luke Flanagan

So many people seem lost. Like they don't know what they want, and they're just lukewarm and ok about their lives. This book provides some perspective and useful principles. — Julia Proos

Philosophy for life:

If it's not Hell Yeah, then it's a no.

Derek's work is a Hell Yeah!!!!! — Shant Hagopian

It's a paper format, and I like to have a paper copy of book.

The chapter "What do you hate not doing?" did made me quit reading the book and I started to brainstorming some answers for the rest of the day.

In the book, I was expecting the font size to be as big as "anything you want" book. — Aigars Kadikis

We could all use more Hell Yeah or Nos in our lives. This book dives deep into the concept that so many people reference. — Gordie Bufton

I love Derek's framing as the "counter melody." He doesn't seek to give you the advice you can get from someone else. This thoughtful little book can be read in two short sittings. It might just accompany my morning coffee and I again soon! — Grant Dever

Wherever I go, this book is with me. I love it! — Anna Jelen

Once you read this book. You will have no trouble answering which things are worth your time and which things you will avoid. — David Humes

Down-to-earth ideas to put into practice, today. — Guillermo Trousselle

Simple, clear and effective.
If they asked me "Would you read this again?", I'd say: "Hell Yeah!" — Paola Baccigalupo

Great book! It will be one of my go-to books in the bookshelf for years to come for when I need a little help in life — Gaute Dahl Wardenær

Great book, I bought it for myself and for everyone on my team. We sat down after reading the book and had a productive discussion to help us deepen our connection to the content and to each other. — Vitali Verkhovski

I really liked it. And I appreciate the way it's written. No fluff. Similar to Naval's book. — Pau Oliver

One of the best compilations of Live Advice I have ever listened to! — Andi Rohde

A quick, delightful read full of brilliant insights! — Gabriele Marewski

Great book "about what's worth doing, fixing faulty thinking, and making things happen". It structures Derek's succinct blog posts to give them more meaning and poise.
Loved it! — Ionut Norocel

One of my fav books that I'm always coming back to. What I love about it is that I can turn to a random page and somehow it contains exactly what I need to read in that moment. — Tia Bhuva

love that it is simple and even proves to be an eye catcher for others in the family. — Ryan Shea Hourigan

Very good advice in this book. Helps you draw the demarcation line in the sand in where to put your effort. — Ben Francom

A beautifully simple book that helped me bring clarity to my life. Recently, my 11 y/o son discovered it on the bookshelf and read it cover-to-cover as well :) — Christian Pekeler

I loved this and work hard to apply some of Derek's Wisdoms each and every day — Peter Svans

Derek Sivers provides you with insights, inspiration, and reasons to say "Hell Yeah or No". — Wiley Bland

I use it as an oracle. The page I open to is the lesson I need to be reminded of that day. — Maria

Beautiful book. Very well and simply written. — Kenneth Blomqvist

Some common sense, some outside-the-box thinking, much experience and reflection from someone I admire as a successful doer. I passed the book along to my son. — Harland Giesbrecht

At the very least, Derek Siver's unconventional wisdom will make you think. If you are smart and act upon those fresh thoughts, it might also change your life too. — Jayme Kopke

I'm a huge fan of this book - mainly for how it's compartmentalized into small stories and learnings. Super practical and thought provoking. It's like a TED talk meets a Readers Digest. — Jordan Boesch

a ton of good reminders bundled into an inspiring read. — Matthew Guay

When I get stuck I go for a run and listen to this book. Gives me clarity and get me grounded. — Vasil Nedelchev

"Hell Yeah or No" by @sivers has become a sacred book of wisdom for me. When I came out of a nearly two year retirement (that I thought would be permanent) in 2017 at 39 to give back to my industry as an educator and assist high potential dental entrepreneurs to achieve their dreams, I thought it would be very part-time. However, by 2019 there were so many new opportunities that I was working full time and traveling for work extensively.

In the Fall of 2019, I decided that in 2020 I would restore balance and significantly reduce my time at work. I did this prior to the recent pandemic and I have continued to do so into 2021. This restored focus has allowed me to apply the Hell Yeah or No concepts more fully and has awakened my creativity again.

So far in 2021, I have founded two new businesses with amazing partners that will impact the dental industry and beyond for years to come, and my other businesses continue to thrive while maintaining a more balanced life of joy and happiness.

This gift could not have come without the wisdom I have gained from @sivers over the years, including this book.

Thank you for that gift Derek! I appreciate you and your "counter melodies" to conventional wisdom. — Jeromy Dixson

This was a very stimulating book ! — Tom Harney

A delight and a pleasure — Kevin Miller

Love reading the content in paper form. — Shannan H

Great read! — Michael Parker

The sort of book that you'll keep coming back to again and again for a fresh dose of inspiration, motivation, and clarification. — Noah Bradley

I am a 27-year-old musician (composer, pianist, conductor) living in Amsterdam. I was recently very impressed and inspired by the reading of his two most recent books.

Having reached today the end of "Hell Yeah or No", I feel very grateful. It appeared to me that a smart way to show my appreciation of his work would be to apply his advice to my own life and to keep him updated as to what unfolds. That way, I will have made sure I keep breathing in... and out.

I am grateful for those two wonderful books. — Aristide Moari

"Hell Yeah or No", by Derek Sivers is a short book organizing some of the author's blog posts. Since I enjoy his writing and especially his extensive book list, this was an instant purchase.

Below are my favorite quotes and links to the mini-chapters I found most interesting. (29 out of 67! 11 (in bold) that I liked in particular, since those are blog posts, they are freely available.)

This book also reminded me of my all-time favorite talk: "Steve Jobs Stanford Commencement Speech".

https://gordonschuecker.com/2020/08/20/book-notes-hell-yeah-or-no/ — Gordon Schücker

This book gives you a lot of insight.
The hell yes don't come along often but when they do jump on them.
I highly recommend this book. — Bob Page

I read Hell Yeah or No and found the bite sized life lessons good. They are easy to relate to and I'm following some of them. Also love the cheery yellow cover. — Barry Shephard

The book is comforting, appropriately objective and rational, challenging and illuminating.

I am inspired, with new tools, to write my book, continue to write and publish my poetry, find composers to write music to lyrics I have written for songs and to lay back and not get in my own way. Life is too short. And someone, somewhere may need to read or hear what I write. If my works are memorialized through publishing, then my legacy will have manifested. Sigh. I just want to leave something. — Nora Lucille Bickett

A really cool book to come back to then and again. There is some much that can help you reflect your own life - or start an exciting discussion with your spouse or a friend. It's succint, deep and fun. What else do you want from a book? — Roman-Maria Höritzsch